Senior Member
Join Date: Aug 2007
Location: australia
Posts: 258
Mentioned: 0 Post(s)
Tagged: 0 Thread(s)
Quoted: 0 Post(s)
stolen race car and trailer
---
how low is this,IMPORTANT NOTICE: RACE CAR AND TRAILER THEFT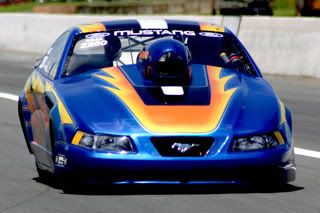 632ci brodex motor
Drag Racing competitor Todd Jones' F250 ute (Registration: PEDRO), 'Guthrie Racing' 40ft white trailer and Mustang Race Car (Number 2260) as well as tools and spares have been stolen early this morning from his Slacks Creek workshop in Queensland.
The distinctive trailer is emblazoned with 'Guthrie Racing' along the sides and back, and the set-up is believed to have been stolen from the 57 Rowland Street, Slacks Creek, premises at approximately 11.30pm last night with a number of persons involved.
.
Jones was due to compete in the Supergas category at the Willowbank Raceway Night Fire Top Fuel Spectacular event to be held today and tomorrow, however upon arrival at his workshop early this morning Jones found the gates to have been cut open and his valuable equipment missing from the workshop compound.
Jones and local police are currently appealing for anyone who may have seen or heard anything in regards to this matter to come forward, as any information may be helpful in recovering the stolen goods. If you can help, please call Willowbank Raceway on 07 5461 5461, Steve Bettes on 0409 489 294 or their local police station immediately.
---
dragon 557
Senior Member
Join Date: Jul 2006
Location: CSA
Posts: 285
Mentioned: 0 Post(s)
Tagged: 0 Thread(s)
Quoted: 0 Post(s)
man i feel for you had my car trailer stolen before. hope you get the dirt bags.
Senior Member
Join Date: Aug 2007
Location: australia
Posts: 258
Mentioned: 0 Post(s)
Tagged: 0 Thread(s)
Quoted: 0 Post(s)
It's not mine, I am just posting it. he is just a fellow ford man that needs all the help he can get.
here in OZ it is a fairly small community of drag racers really compared, so trying to unload a 632 brodex would lift some eyebrows.
I HOPE THEY FIND HIS GEAR THE WAY HE LEFT IT.
---
dragon 557
Senior Member
Join Date: Jun 2007
Location: summerton,s.c.
Posts: 334
Mentioned: 0 Post(s)
Tagged: 0 Thread(s)
Quoted: 0 Post(s)
Stolen
---
I would contact different drag strip owners and tell them about car and to keep what you tell them to them self ONLY. to look out for anyone showing up with NEW motor set up. Cause i would think they would not use car or trailer but motor yes so i would think it would show up with motor only in a car . if you have any pictures of motor set up give that to track owners because i would think with that kind of motor set they(thiefs) would not change the set up of the motor and would keep it intact as it runs that way best, so the motor should be able to be id easly(you know like color, how hoses or connection are run . You have to think like a thief and that would be say if you stole someones car like yours would you show at a strip with that car painted differnt or would you show up with different things altred but motor set up would stay the same. Right!!! :idea: Only other thing is the trailer more likey store in side big storage area with in less than 100 miles. Remeber think like a thief and you can catch the thief. :idea: But i would also think the trailer should be a lot closer (under 50 miles). Wish i could be there to help recover it. when i use to go to races i would park my trailer close to room and run a 20 lb fish line to it to the room i would be in and put a lot of tin cans on it. I did this in Houston years ago when i had a Funny car and BELIEVE ME IT WORK GREAT because a 2.30am the car was trying to be stolen - Stop it in its tracks.Rember to catch or out smart fox you got to be one yourself. GOOD LUCK FASTFROG :lol: