Senior Member
Join Date: Jan 2006
Posts: 928
Mentioned: 0 Post(s)
Tagged: 0 Thread(s)
Quoted: 0 Post(s)
New project
---
Not 100% sure of what I am going to do (would even look at suggestions) but bought this off ebay and just got it home today. 67 galaxie, yes needs some work but its a 390 car (may or may not stay that way) everything is there but has been sitting forever, most of the interior needs redone so not a big deal there.
Bascially thinking your basic restomod type of deal, and been thinking a kaase boss headed stroker pump gas would make it a fun car. Basic idea is street legal, and run on pump gas weekend cruiser rest is still up in the air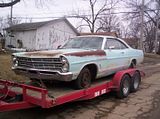 Senior Member
Join Date: Jan 2006
Location: Oak Grove, Missouri
Posts: 1,181
Mentioned: 0 Post(s)
Tagged: 0 Thread(s)
Quoted: 1 Post(s)
Looks like you saved a car there! Hate to see an old car get modified when it could go back original but thats expensive and time consuming. whatever you decide it will be cool! Chris
---
65 Fastback tube chassis
blown alcohol A head 572
"A Team member"
Guest
Posts: n/a
Mentioned: Post(s)
Tagged: Thread(s)
Quoted: Post(s)
I had one of thoses.. 390 too.. We had a Street Stock (Stock cars) class.. Pretty much run what ya brung.. I did pretty good mowing the Novas and such over.. It was a 1/2 mile track.. umm don't think it's around anymore but it was called Santa-Fe Speedway in Ill..
The last race I drove two guys spun and I nailed them just before turn #1. I destroyed the car and my back was killing me afterwards. So that was the end of that..

Keep us posted.. Looks like an awesome project!
Forum Contributor
Join Date: Jan 2006
Location: West Kentucky
Posts: 1,402
Mentioned: 0 Post(s)
Tagged: 0 Thread(s)
Quoted: 0 Post(s)
Rob,
Street sleeper all the way, with your knowledge it would be great. 8)
---
David,
A clear conscience is usually the sign of a bad memory.
1977 F-150 4X4 SWB
Mud/Dirt drags.
460 + ?
4.5 Bore X ?
and who cares,
if your winning your cheating, just ask the
bowtie guys
Junior Member
Join Date: Jul 2006
Location: Fremont,Ohio, USA
Posts: 48
Mentioned: 0 Post(s)
Tagged: 0 Thread(s)
Quoted: 0 Post(s)
Put it stock
---
And I'll sell you a 428 4 speed 67.
---
Damm right it's mine,I pushed it here!