Member
Join Date: Sep 2007
Location: NOVA
Posts: 115
Mentioned: 0 Post(s)
Tagged: 0 Thread(s)
Quoted: 0 Post(s)
Special Thanks to Frank Merkl
---
For the great Trans Brake. I cannot thank him enough for building us such a fine part.
I had a long time friend/customer call Frank and buy his last one a few weeks ago after the C6 in his mud truck destroyed itself. Franks Trans Brake came in the mail Friday afternoon and we spent all Friday night putting his C6 back together with the new Trans Brake Valve Body.
I think he is going to have to screw his tires to the rims as it spun the rear tires inside the rims about 4" on this first pass. First pass Saturday was a solid 2 tenths faster than foot braking. Here is the first pass leaving at 3900RPM. 4.52sec in the 200ft.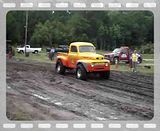 Since everybody likes to know the details.
Truck Specs:
48 Ford Body
86 Bronco Frame (stock wheel base)
Ladder Bar w/Leaf Spring Floater rear/ Stock Radius Arm w/Coil over front
4800LBS
39.5X18 TSL Boggers and 38.5X12 TSL Boggers (D.O.T. UNCUT)
512" BBF
Blue Thunder CJ Heads
Reed Roller
C&S 4500 Aresol Billet
C6 w/Merkl Trans Brake
ATI 9" 4000rpm stall
NP203 Transfer
35 Spline 9" Rear Dana 44 Front (5.13 gear)
Will
Senior Member
Join Date: Apr 2006
Location: flyover country(Odebolt, Iowa)
Posts: 1,419
Mentioned: 0 Post(s)
Tagged: 0 Thread(s)
Quoted: 0 Post(s)
Sounds strong :!: Frank's the man 8)
---
"Perception is reality"
"Failure is not an option"
Charter member 460Ford.com "*** kissers"
2001 F150 4X4 SuperCab
2003 Harley Electra Glide Ultra Classic
1998 25.4 Mustang, 598 C head...done by fall, good Lord willing...

"No time to drive any of them"
Senior Member
Join Date: Jan 2006
Location: The Texas Panhandle
Posts: 4,325
Mentioned: 0 Post(s)
Tagged: 0 Thread(s)
Quoted: 0 Post(s)
Damn it looks good...


Randy
Senior Member
Join Date: Jan 2006
Location: 1231 Upper Trace, Owensboro,KY 42303
Posts: 3,956
Mentioned: 0 Post(s)
Tagged: 0 Thread(s)
Quoted: 1 Post(s)
Yep,

Frank is a good guy! I've done business with him several times, and it's always been good. The only compliant I have is that the "Pony Express" and "Dog Sled" mail between Canada and the U.S. runs slow, (both ways) but that's not his fault.

P.S. Frank, I got your check today.

Thanks,
---
Charlie Evans
Member
Join Date: Mar 2006
Location: victoria.bc canada
Posts: 115
Mentioned: 0 Post(s)
Tagged: 0 Thread(s)
Quoted: 5 Post(s)
you think the transbarke works well you should try frank's full roller trans with the brake. its a thing of joy
Senior Member
Join Date: Jan 2006
Location: Brooks Alberta Canada
Posts: 2,005
Mentioned: 0 Post(s)
Tagged: 0 Thread(s)
Quoted: 13 Post(s)
That Transbrake design had over 10 years of testing and modifying ( I built the first 5 in '93 and there still working )before I told anyone that I had them for sale as I didn't want to sell a product that didn't hold up to my Quaility control design. John I on this site has one of my orginals and it's been upgraded twice . Sell a quality product and you don't have to worry when the phone rings!
Frank