Forum Contributor
Join Date: Aug 2006
Location: Bardstown, KY
Posts: 1,311
Mentioned: 0 Post(s)
Tagged: 0 Thread(s)
Quoted: 1 Post(s)
Sad news about the US 60 Raceway in Hardinsburg, KY
---
:cry: (As published in the July 16, 2008 Herald News) which is the Breck. Co. newspaper.
Track looks closed for the year..... :cry: :cry: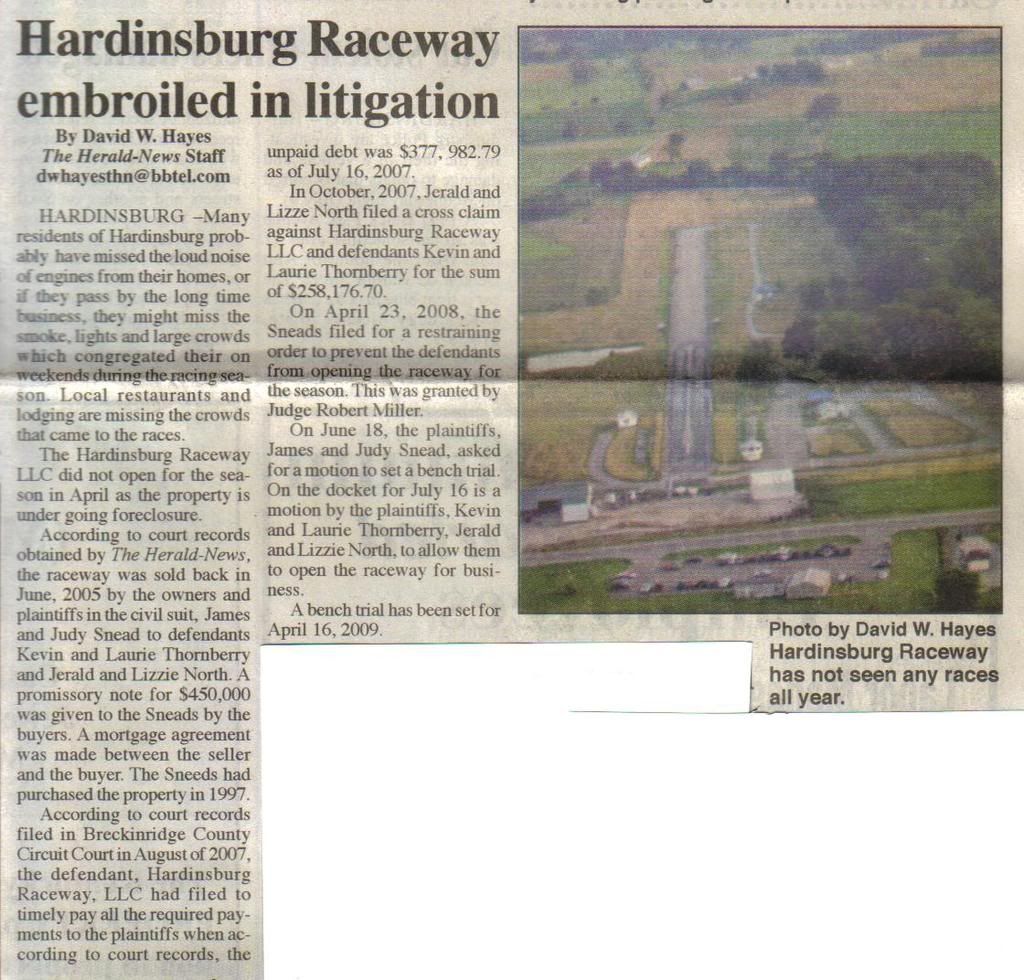 ---
Alan Mackin

83 T-Bird 460
83 T-Bird Heritage 5.0 RHO
84 T-Bird 5.0
86 T-Bird 2.3 Turbo NHRA Stock Eliminator
87 T-Bird Turbo Coupe 460
95 Mustang GT 5spd Saphire Blue (purple)
95 Mustang GT auto Saphire Blue (purple)IHRA Pure Stocker
Senior Member
Join Date: Feb 2007
Location: Hawesville,Ky.
Posts: 2,960
Mentioned: 0 Post(s)
Tagged: 0 Thread(s)
Quoted: 0 Post(s)
From the looks of that, it won't be open next year either!!Bench trial in April of 2009?
---
Dan Hobbs 2004 Super Pro Champion Windy Hollow 2002 NHRA National Dragster Challenge Super Pro Champion Beech Bend Raceway Best ET 5.290 @ 132.95 1.14 60 Ft. 575 injected alcohol 2008 & 2009 BBF Bash PRO Champion(The Guy With 2 BIG Checks)2010FunFord Super Pro Winner @Norwalk,Oh. 2011 NHRA National HotRod Reunion Gas Eliminator Champion..2012 Ford Thunder Q-16 Heads Up Champion
Best Auto Insurance | Auto Protection Today | FREE Trade-In Quote
Senior Member
Join Date: Jan 2006
Location: Union, OH
Posts: 560
Mentioned: 0 Post(s)
Tagged: 0 Thread(s)
Quoted: 0 Post(s)
Sounds like someone is getting screwed.
I know around here all you have to do is pay a few
judges off and the Wheels of Justice will grind to an absolute halt.