Neighborly problems
---
Evidently we have some bold neighborhood kids around here. The house backs up to a lake with a 4' or 12' right of way around the lake for community access. I will also note that the neighborhood association hasn't been active for over 2 years now.
Well anyway...
I had built a lean to off the shed at the end of our driveway. Under the overhang I keep all my steel stock, and drain pans etc for oil changes and the like.
Well some kinds keep coming by fishing and helping their self to my drain pans. Just one in particular, which happens to be the one that I used to drain the transmission fluid from my Ranger into 2 weeks ago.
I found it down by the lake, close to being blown in by the wind. I took the pan and put it under a large plastic drain pan I use for oil changes.
2 Days later I come home and the stinkin pan is...you guessed it...back down by the lake.
We also have a pick nick table in our back yard, the one bench always ends up by the lake, and they just leave it. I moved the table and benches closer to the house, and they still came and got the bench. If they would ask...it would be cool, but since they don't, they have no right to move or use my stuff.
Also they like leaving trash behind them. This last time...1/4 loaf of bread, empty pringles can, a few paper drink cups.
Im afraid of my parts for my F100 to start walking off, some wont fit in the shed or garage, so they are stored under the lean to.
Im thinking about putting up no trespassing signs, but I don't know if this will be enough. I cant talk to them, cause they never seem to be fishing when I am home. I don't see my dad confronting them also.
Im just tired of this crap and picking up after them.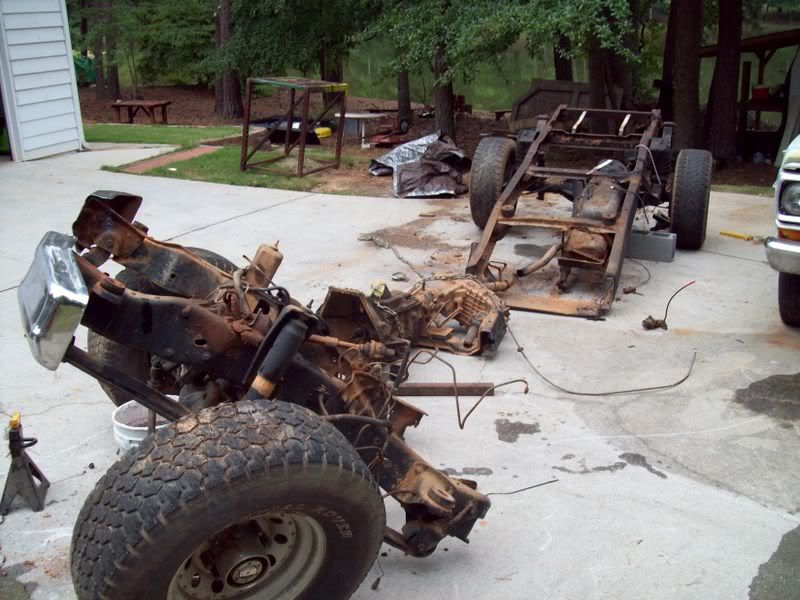 You can kinda see the lean to in the upper right corner. Straight out from the tarp is our fire pit, that's were the benches have been for a few years without issue.
---
2002 Ford Ranger 4x4
1972 Ford F100 Sport Custom
460, C6, 9" rear, lwb
Senior Member
Join Date: Nov 2006
Location: central minnesota
Posts: 1,102
Mentioned: 0 Post(s)
Tagged: 0 Thread(s)
Quoted: 0 Post(s)
what were you thinking?
why did you just chop up a 3/4 ton 4x4 running grear?
it dosent even look rusted out

as far as the issues with the neighborhood kids
just confront them
i am shure you can catch them on a day off work or?
and just have a talk with them
if that dont work buy a mean dog
Senior Member
Join Date: May 2007
Location: sniffin' out the procomp threads
Posts: 6,392
Mentioned: 0 Post(s)
Tagged: 0 Thread(s)
Quoted: 0 Post(s)
Just have to lock everything up, thats how it is nowadays.

Catch um in the act either whip that *** or put the fear of God in um.
---
69 Grande'
P51 headed 563
3070#'s
5.15 @ 134.89
Senior Member
Join Date: May 2008
Location: Dryden, MI
Posts: 381
Mentioned: 0 Post(s)
Tagged: 0 Thread(s)
Quoted: 0 Post(s)
Gremlins :?: :?: No just kidding.... X2 on what Jon say's :!: Don't get in trouble
Punks :twisted:
---
MIKE
SCJ REBEL'S
528 cu in "SNAKE POWERED"
Fab It Racing 586-703-0675
Dan "The Sticker Man" Hobbs
Team Z
Tony
Best to date

[email protected]
If there were no fools there'd be no fun!!!!
Senior Member
Join Date: Jan 2006
Location: Iberia, MO
Posts: 1,179
Mentioned: 0 Post(s)
Tagged: 0 Thread(s)
Quoted: 1 Post(s)
Easy... put up a sign and point them up to the 4x4 frame and tell them. This is what happens when I get mad. If you don't leave my stuff alone, you're going to look like the frame up there! :lol:

Bret
---
Pullin For Christ
Forum Contributor
Join Date: Jan 2006
Location: West Kentucky
Posts: 1,402
Mentioned: 0 Post(s)
Tagged: 0 Thread(s)
Quoted: 0 Post(s)
Be careful with a dog, make it one with a bad bark but no bite, if your laws are like ours you will be held responsible for all injuries done by your dog, on your property or not. Seems like the law protects the wrong people sometimes. :roll:
---
David,
A clear conscience is usually the sign of a bad memory.
1977 F-150 4X4 SWB
Mud/Dirt drags.
460 + ?
4.5 Bore X ?
and who cares,
if your winning your cheating, just ask the
bowtie guys
Senior Member
If it was me I would put a sign and some hidden cameras. Catch them on tape and let the police deal with it. I hate criminals big or small.
---
Life's journey is not to arrive at the grave safely in a well preserved body, but rather to skid-in-sideways, totally worn out, shouting.."holy crap.... what a ride!"
Senior Member
Join Date: Jan 2007
Location: jackson,ohio
Posts: 3,790
Mentioned: 0 Post(s)
Tagged: 0 Thread(s)
Quoted: 0 Post(s)
Put up a sign that reads..Are my possessions worth your life :?: :shock: :shock: :arrow: :lol:
---
Rick Brown
(LIL TWEETY) BBF 62 Falcon Tube Chassis
Member of a BAND OF BROTHERS

Pro Motion Machining
Perfect Reflections Photography
Bronx Corner Automotive