Senior Member
Join Date: Apr 2008
Location: Taylor,MI
Posts: 944
Mentioned: 0 Post(s)
Tagged: 0 Thread(s)
Quoted: 1 Post(s)
are there any lawyers on the board????
---
i need advice on who to name in my small claims case i plan to file. i need to know who to name on the filing papers. i have 3 choices.
1, rich. he is the guy who signed my paper work in pics below. but he has already told me nothing is in his name.
2, pro racecraft engineering. that is the company he operates and is on my invoice that rich signed. pro racecraft eng. is an asumed name and his wife is listed as the sole owner and she is using her maiden name.
3, pro racecraft engineering and his wife together. or would her name be automaticaly linked to the company if i just said the company name.
4, should i name all three rich,P.R.E and wife. if this is the right choice will the court let me sue 3 defendants on 1 suit?
another question i have is where to send paper work, do i send it to their home address? which is where rich, the wife and the business address is. or do i send it to the actual address where they operate the business and where the ripping off took place? it is 2 different cities. i was told i could file in the city where it occured or i could file in the city where the live. can i do both? i'd like to file in the city where it occured and send it he paper work to their house where i know they will receive it. or should i even care if they get it or not. the court will send it certified mail. thx for ur input. these are a lot of questions if any one would like to you can call me at 313-443-5557 charles. thx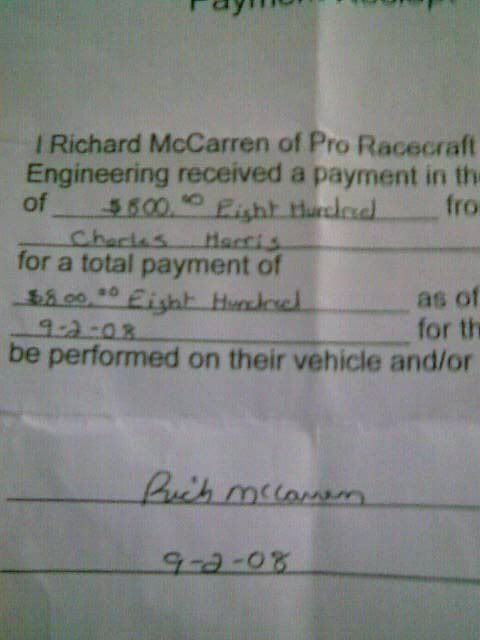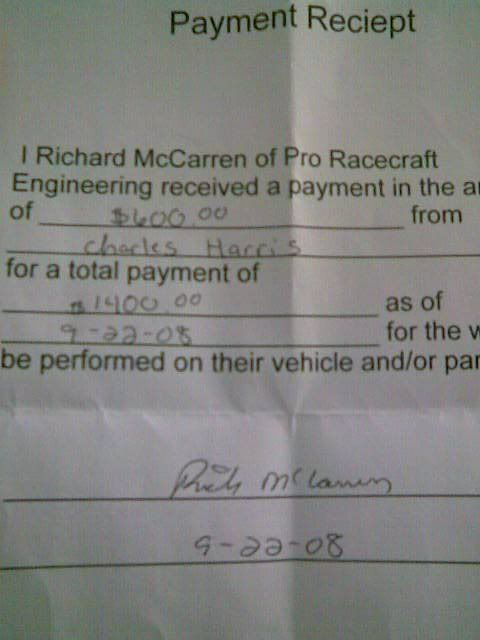 Senior Member
Join Date: Jan 2006
Location: Peoria, IL...more or less
Posts: 708
Mentioned: 0 Post(s)
Tagged: 0 Thread(s)
Quoted: 1 Post(s)
Probably Richard McCarren & ( wife's name) d/b/a Pro Racecraft Engineering. He may say that it's not in his name, but that doesn't mean he's telling the truth. If it isn't, that will come out.
So far as delivering the papers, I would file where it occurred (check with the county clerk...if you're cool they will usually give you a guiding hand). Dunno about MI but in Illinois, you have to have a court-certified person deliver the papers, & you give them all the addresses. If the papers can't be delivered, you can't go any farther (but the people are REAL persistent.
) Since you say the official business address is their home, it probably needs to go there.
To me it's unusual that the court will just send it certified mail...what happens if they refuse delivery, or if a signature isn't required, just act as if they didn't receive it?
Keep in mind also that even if you win judgment, you still have to collect...and therein lies the problem. Here, at least, it generally takes a lawyer to go through the process of garnishing wages...an individual could theoretically do it, but it's not as simple as the small claims process.
---
Mike

IN: Staring adversity in the face while working on your car and coming out on top

OUT: Finally realizing that every $%&# thing you touch on your car turns to adversity
Member
Join Date: Jan 2009
Location: Columbia, Mo
Posts: 90
Mentioned: 0 Post(s)
Tagged: 0 Thread(s)
Quoted: 0 Post(s)
years ago at a shop I worked, a customer drug us to court and they listed multiple names on the summons(company and employees) In the end the judge took off the employee names and just entered the company name in the suit. Its probably best to list them all and let the judge determine if the names listed are proper.
Here in Missouri, an officer of the court(sheriff deputy) has to hand deliver court papers.
---
Last edited by bigblocknotch; 03-09-2009 at

10:48 PM

.
Senior Member
Join Date: Jan 2007
Location: jackson,ohio
Posts: 3,790
Mentioned: 0 Post(s)
Tagged: 0 Thread(s)
Quoted: 0 Post(s)
If it was me I would speak to a lawyer
---
Rick Brown
(LIL TWEETY) BBF 62 Falcon Tube Chassis
Member of a BAND OF BROTHERS

Pro Motion Machining
Perfect Reflections Photography
Bronx Corner Automotive
Senior Member
Join Date: Jan 2006
Location: Texas
Posts: 872
Mentioned: 0 Post(s)
Tagged: 0 Thread(s)
Quoted: 1 Post(s)
You might also check with your state engineering licensing board. In TX, you cannot have the word "engineering" in the name of your business without someone in the firm having a professional engineering license. The names and addresses of these engineers and firms are public information.
---
Last edited by FE_rex; 03-10-2009 at

07:35 AM

.
Senior Member
Join Date: Jan 2006
Location: The Texas Panhandle
Posts: 4,325
Mentioned: 0 Post(s)
Tagged: 0 Thread(s)
Quoted: 0 Post(s)
I am with Rick on this one I would consult a lawyer and personally I would hit all 3 names if possible to make sure you are covered......


Best of luck


Randy
Senior Member
Join Date: Apr 2008
Location: Taylor,MI
Posts: 944
Mentioned: 0 Post(s)
Tagged: 0 Thread(s)
Quoted: 1 Post(s)