Senior Member
Join Date: Jan 2006
Location: Cuba MO
Posts: 5,316
Mentioned: 0 Post(s)
Tagged: 2 Thread(s)
Quoted: 185 Post(s)
Customer's EFI Mopar
---
Here are a few pictures of a customer's Mopar. It's a 1963 Dodge wagon that he's building for this year's Hot Rod Power tour. It has a 440 with Edelbrock heads and the Edelbrock Pro Flo 2 EFI setup. I built the engine which is mostly stock except for the cam (Reed torque master hydraulic) and the induction. I spent quite a bit of time with the engine on my dyno getting the fuel injection set up to work well on an engine this mild(600 rpm idle). I was successful and the engine also managed to make 400 horsepower at 4800 rpm. This year's goal was to do an engine that could run fine on 87 octane AND get some good mileage(hopefully 20mpg) in the wagon!
After he got the engine installed in the car we had some problems with the distributor making the engine run erratically but now that we have that fixed tonight it was time to do some more tuning. We spent the evening trimming out the part throttle cruise mixture which was just not practical to do on the dyno. This car has a Torque Flite with a special low stall converter and a Gear Vendors OD box. It will cruise at 70mph at about 2100rpm.
He's going to take it on a shake down cruise this weekend to check the economy and see how we're doing.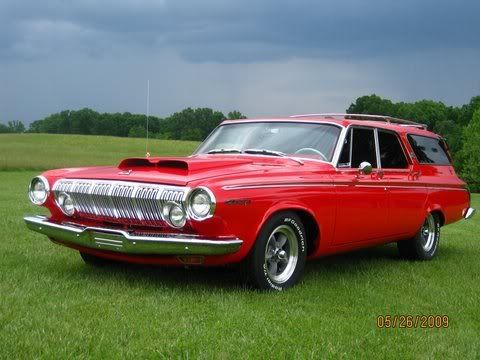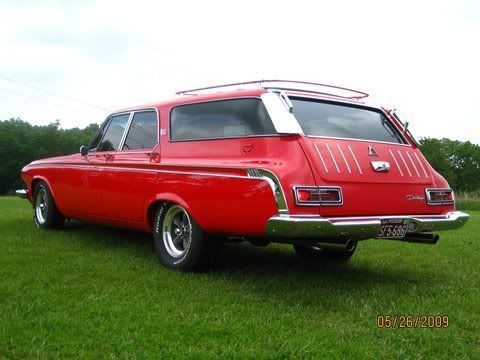 So if you see this car on the Power Tour(there shouldn't be a whole lot of other ones just like it) say hi to Gary and his wife Vicky. This car is ABSOLUTELY well done and flawless from one end to the other and it runs surprisingly well.
---
Any sufficiently advanced technology is indistinguishable from magic --Arthur C. Clarke

Dave McLain
McLain's Automotive
Senior Member
Join Date: Jan 2006
Posts: 1,642
Mentioned: 0 Post(s)
Tagged: 0 Thread(s)
Quoted: 0 Post(s)
Dave,

Nice engine build and nice looking car,yeah i bet you won't see any or many other cars like it on the tour.

Later Mark.
Senior Member
Join Date: Feb 2007
Location: Chattanooga, TN
Posts: 440
Mentioned: 0 Post(s)
Tagged: 0 Thread(s)
Quoted: 0 Post(s)
That thing is gorgeous. I keep pestering my wife about getting an old stationwagon because we are having our first baby soon. She doesn't want to get a mini-van, and neither do I, so I think a wagon like that is the best alternative. Rational? No. Coolest? Yes.
---
The Original "RedneckProfessor"
Senior Member
Join Date: Jan 2006
Location: Cuba MO
Posts: 5,316
Mentioned: 0 Post(s)
Tagged: 2 Thread(s)
Quoted: 185 Post(s)
Last year Gary did a 1963 Dodge 330 for the Power Tour. It got a lot of attention because it was unique. These Chryslers from this era are so ugly they are really kind of neat.

While they were in WI he spotted a 1963 wagon which was a pretty nice car. The wagon was originally white but it had been sprayed a light blue. He bought the car, drove it home and then restored and modified it to it's present state. It's now painted Viper red just like his other '63. This car is a "440" trim package so it's a bit fancier than the other car too with a bit more trim and those deflector shields on the rear etc.

This car is a "restomod" type of deal with the Edelbrock Pro Flo 2 system, rack and pinion front end and Gear Vendors' overdrive unit.

The engine build was fun for me and it's a 440 that's .060 over. The core engine had some rusty cylinders so it had to go to .060 from STD to make it nice again. It was about a '71 or so engine so it had a steel crank which we ground .010-.010 and I set it up with conservative clearances. It has stock rods with new bolts, Sealed Power stock replacement cast pistons, stock oil pump, roller timing chain, custom ground hydraulic cam that's 208-214 at .050 on a 112 lobe sep in the engine on 106. It has Crane rockers and I changed the stock Edelbrock springs to something lighter, 100lbs seat 240 open. It has a "truck" style rear sump pan in order to clear the steering rack, Mopar Performance windage tray and that's about all really. It has headers too. I did the break in and dyno running with some other headers so that the coating would not get damaged. He had dual exhaust done at a local shop and the car has mufflers and an X pipe from Cherry Bomb.

Since we wanted to get the tuneup as "right" as possible and do all of the break in work with the engine out of the car Gary wanted to run the engine on the dyno.

I pretty much had to do the fuel and spark mapping from scratch because Edelbrock didn't have a program that I could flash which was designed for an engine as mild as this one. Everything I tried was just too lean down low and at idle this engine pulls so much manifold vacuum and I think at a 600 rpm idle it's still pulling about 17 inches or something like that.

The system was pretty easy to get set up and I had it running well after a couple of nights worth of work. This was really my first experience with using EFI and computer controlled timing and once I had it close it was very straightforward to give the engine what it needed.
---
Any sufficiently advanced technology is indistinguishable from magic --Arthur C. Clarke

Dave McLain
McLain's Automotive