Member
Join Date: May 2009
Location: flagstaff az
Posts: 198
Mentioned: 0 Post(s)
Tagged: 0 Thread(s)
Quoted: 0 Post(s)
quick ? about Moroso Power Speed Calculator
---
on the "Read SPEED at TIRE DIAMETER" part of the calculator, is the speed read supposed to be your speed at the end of the 1/4, or is it just your speed at the set RPM? instructions are: pull slide to set engine RPM at gear ratio. Read speed at tire diameter. dosnt say if its for est 1/4 or not. my guess is its speed at your RPM only, and up to user to figure the rest.
thx guys,
Mark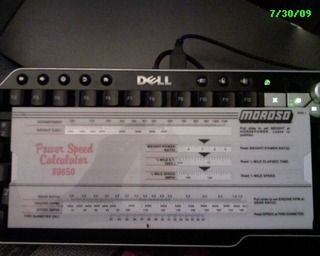 Member
Join Date: May 2009
Location: flagstaff az
Posts: 198
Mentioned: 0 Post(s)
Tagged: 0 Thread(s)
Quoted: 0 Post(s)
never mind. makin harder than it seems.
thx anyhow.
mark
Senior Member
Join Date: Apr 2008
Location: Northern Ohio
Posts: 255
Mentioned: 0 Post(s)
Tagged: 0 Thread(s)
Quoted: 0 Post(s)
It is speed at RPM only...The one thing it does not take into consideration is converter slippage if you are running a automatic trans. It does not consider overdrive either.

Hope this helps
Join Date: Jul 2009
Posts: 20
Mentioned: 0 Post(s)
Tagged: 0 Thread(s)
Quoted: 0 Post(s)