Senior Member
Join Date: Jan 2006
Location: Springfield, GA
Posts: 1,990
Mentioned: 0 Post(s)
Tagged: 0 Thread(s)
Quoted: 0 Post(s)
New toy to play on.
---
My older brother picked this up last week. Only problem I see with it is it's powered by a 502 Chevy, but a toy is a toy. Actually he's going to start trapping eels again to make some extra cash.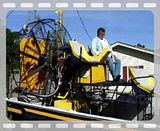 Senior Member
Join Date: Sep 2006
Location: Stratford, Ontario Canada
Posts: 2,013
Mentioned: 0 Post(s)
Tagged: 0 Thread(s)
Quoted: 0 Post(s)
Dam, that looks cool!!! Sounds like it was kinda windy around the stern!!
I have always wondered why they don't put a shroud around the fan?
Bill
---
I salute our troops. Thanks for your service.
"The Key Board Warriors"
1983 Thunderbird
Big Block Power
466 Edelbrock Performer RPM heads, cam, intake