More brake questions- This is a very specific FORD part question.
---
Ok....I will try to explain the best I can till I can get home and get a clear pic:

On the passenger side on the car behind the front wheel and fender liner, there are TWO brake lines that go to the rear of the car for the brakes......

They are offset from each ohter and both use a different attachement style...(one is male and one is female).

I need to know what brass fittings I need to reattach new line to them. I have been to the parts stores and have about 20 fittings at home but nothing that is right I would love to just cut them and put on new fittings, but it is VERY VERY VERY tight, so if I can just get parts to fit it would make my life easier....I need to attach 3/16 double flare fitting to these lines.....

The original lines are gone (yeah i know stupid) that went towards the front of the car.....


edit: this is for a 2002 Ford Mustang GT WITH abs and traction control (all of which have been removed)
---
Last edited by frank13; 11-02-2009 at

10:52 AM

.
Senior Member
Join Date: Jan 2006
Location: Oklahoma, USA
Posts: 1,170
Mentioned: 0 Post(s)
Tagged: 0 Thread(s)
Quoted: 1 Post(s)
Can you remove the brake line from the frame rail and work with it outside of the car? If you can take the brake line to the auto parts store, you should be able to match it up. I'd imagine they are metric lines.
If you can't match it up, you should be able to cut the OEM fitting off and reflare the line with a new, American threaded fitting.
When I removed the ABS from my 2003 F150, I probably spent $40+ in brass fittings. At $3.00 / fitting, they add up quick
.
Before: (look on driver's side of engine bay)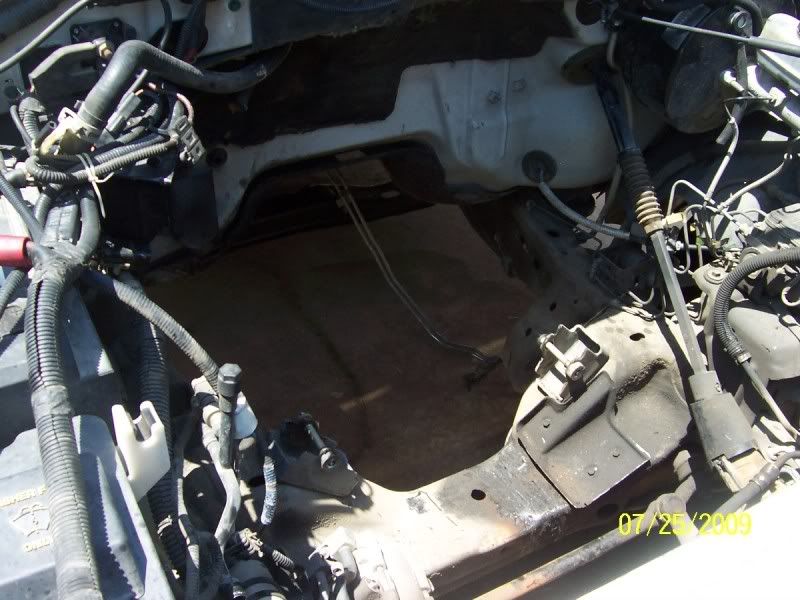 After:
Messing with the brake lines is a slow, tedious process...
Have a good day!
Michael
---
2003 F150 Supercrew
BBF
Turbo

1996 Ford Mustang
2.3t w/ HE351VE turbo
12.10 @ 114 mph