Junior Member
Join Date: Oct 2010
Location: Boston, MA
Posts: 30
Mentioned: 0 Post(s)
Tagged: 0 Thread(s)
Quoted: 0 Post(s)
D3VE + SCJ headers = exh gasket leaks
---
I tried a search but couldn't find results.
Have been blowing out stock and SCJ gaskets, can't get a proper fit.
I'm having a very difficult time sealing my custom full tube headers to my stock D3VE heads. This is a low boost, street supercharged (8-71) application so don't care about flow and wanted the big smog heads (110cc).
Have tried most recently SCJ sized gaskets::
- Mr. Gasket Ultra-Seal Exhaust Gaskets 5954
- Remflex 3011 Exhaust Gasket for Ford V8 Engine. These were very thick, 'guaranteed not to leak' etc but not necessarily for mis matched applications
Gaskets are blowing out in multiple places around the edge of the port. Heads are straight and header surface is clean.
Has anyone run into this before?
Must I port the heads to match?
Am I just not doing a good enough job of aligning the header with the port? There is some front to back play with the flange.
Should I go with solid copper? Should I use two sets?
As you can see, I am in the dark with no experience with this not so popular application. Any advice out there? Thanks!
Senior Member
Join Date: Jan 2006
Location: Colorado Springs, CO.
Posts: 5,481
Mentioned: 0 Post(s)
Tagged: 0 Thread(s)
Quoted: 186 Post(s)
I used to run CJ flange headers on D3VE heads with stock replacement FelPro gaskets. The ones with foil on one side. (std size, not CJ). Never had an issue with them blowing out. Always made sure to re-tighten the header bolts periodically.

Other than that, some people like to run high temp RTV without a gasket, or maybe try out some "dead soft" aluminum gaskets.


.
---
Fastest street legal BBF on 460Ford.com
Fastest AFR headed BBF on 460Ford.com
Fastest street legal 2nd gen Montego GT on EARTH!
Senior Member
Join Date: Feb 2009
Posts: 470
Mentioned: 0 Post(s)
Tagged: 0 Thread(s)
Quoted: 26 Post(s)
I realize not the same application but I run Hooker 6126's on DOVE heads and the header's port has a narrow margin sealing surface in areas(some are less than 1/8") and have used(IIRC) Percy's header gaskets without issue, but I also use 1" long header bolts along with a stainless steel flat washer between the bolt head and header flange surface to keep the bolt from scraping the header coating and to give a bit more clamp area. Haven't had a bolt loosen up or blow out a header gasket yet.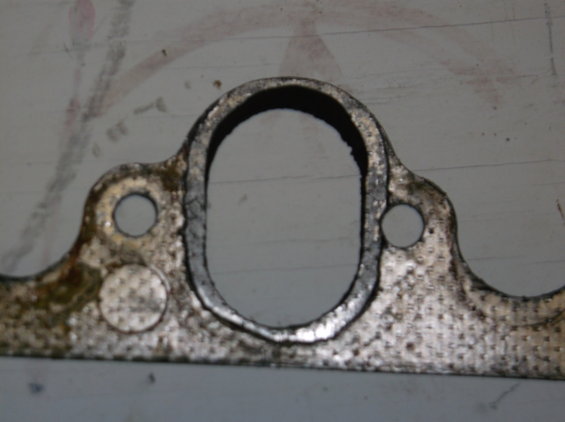 Good luck on exhaust gasket choice.
---
www.supermotors.net/22468
Yeah, it's a hybrid...It burns gas and tires.
No matter how good she looks somebody, somewhere is tired of her sh#t.
Senior Member
Join Date: Oct 2015
Location: Spokane WA
Posts: 280
Mentioned: 0 Post(s)
Tagged: 0 Thread(s)
Quoted: 67 Post(s)
Wixom,this is a very old and common problem with scj headers on standard heads,the problem stems from the fact that not only do CJ's have larger exhaust port openings but the outer edge of the flange where the manifold mounts is also larger,the 429-460 PI heads also have this larger surface even though the port opening is closer to standard size.The lack of this on non CJ/PI heads leaves a very narrow gasket crush area that is prone to leaking.Religous retorquing of your header bolts will to some extent extend the life,double gaskets will sometimes work for awhile again with retorquing,the only sure fire fix I know of is to fabricate a set of plates equal to the thickness of the header flanges that mimic the outer contour of the header flange and a port opening that mimics the the port opening of your heads and running 2 gaskets a cj gasket against the header and a standard gasket against the head with the plate in between,this restores full gasket surface for each gasket.The problem with this is if your running the engine in a car with a tight engine compartment it will cause clearance issues,if it is a unibody like a mustang or torino/fairlane it will almost surely get the headers out into the shock towers since they barely fit already.If this is in the lincoln shown in your avatar you may be in luck they have a little more room,you could test to see if you have room by putting a stack of washers equal to the thickness of the flanges on a couple of bolts as shims to see if you have clearance.If this won't work for you retorque regularly before they start leaking.You could also check with your custom header builder to see if he can install standard port flanges on the headers.
---
Last edited by John Saxon; 08-04-2017 at

12:36 AM

.
Senior Member
Join Date: Jan 2007
Location: ILL
Posts: 3,679
Mentioned: 0 Post(s)
Tagged: 0 Thread(s)
Quoted: 186 Post(s)
there gasket that will fix this issue,and as was said tighen them after the first warm up,and check them every so often

otherwise the real fix is to weld the roof of the header,and reshape it a little to better fit the gasket area
---
RICH
CIRCLE (R) 815 712 8738
--------------------------------
BUY,SELL, or TRADE BBF parts
Dynoed or Test STAND RAN
CYLINDER HEAD PORTING
HEAD FLOWING
COMPLETE ENGINES avb
From STOCK to NOT
PRO SYSTEMS CARBS
BOSS 302 351 429 800CI+