Senior Member
Join Date: Jan 2006
Location: Oklahoma, USA
Posts: 1,170
Mentioned: 0 Post(s)
Tagged: 0 Thread(s)
Quoted: 1 Post(s)
96 Mustang -- Already setup for 460 BBF
---
I have decided to sell my 96 Mustang. I bought it off Ebay about 6 years ago from an insurance company. The car was 'totaled' and came with a salvage title. The car had busted headlights, turn signals, hood, and a little damage on the frame rails in front of the strut towers (the airbags were and are still intact). I spent $250 to get the frame damage fixed, bought the lights, then drove the car around for a few weeks with the OEM drive train. The car drove fine until it over heated (stuck thermostat) and blew a head gasket… I pulled the V6 engine/trans out and installed the 460. I drove the car for a few years with the 460 until I pulled it apart for a new engine combo late last year.
Front of car
-- PA Racing tubular k-member w/ 1.5" dropped rack and pinion
-- Flaming River rack & pinion (manual)
-- Strange 10 way adjustable struts
-- Griggs Racing tubular lower control arms
-- Maximum Motorsports adjustable caster/camber plates (modified: see pictures and ask questions)
http://s53.photobucket.com/albums/g6...0Plate%20Mods/
-- Skinny Kid Racecar manual brake setup
-- Hurst line lock
-- Smoothed engine bay
http://s53.photobucket.com/albums/g6...%20Dec%202007/
Back of car
-- Kenny Brown extreme matrix subframe connectors
-- Welded torque boxes (upper & lower)
-- UPR Pro adjustable lower control arms
-- Lakewood traction bars
-- Driveshaft loop
-- 8.8" rear end with 3.55's and worn out limited slip (out of an 88 T-coupe, but converted to 5-lug)
Random info
-- Rear mount battery w/ cutoff switch that uses OEM holes (did not drill any holes in the body)
-- 99% stock interior…only changes are the requirements for installing my aftermarket gauges and shifter.
-- B&M Pro Ratchet Shifter
-- Manual windows and locks
Negotiable items
-- Radiator, electric fans, & trans cooler
-- Fuel Cell (not mounted)
-- Rear coil over kit
-- Motor plate setup (already trimmed to fit)
I have tons and tons of pictures of this car that span the car's 'life'. I also have 98% of the receipts for everything I've mentioned. I'm sure there are lots of details I've forgotten. I will get some up-to-date photographs of the car that show it as it sits in my garage right now. You can see a plethora of pictures at:
http://s53.photobucket.com/albums/g6.../96%20Mustang/
While I'm not an expert builder, I never take short cuts intentionally. This car was built to the best of my ability. You can look back through my post and see some of the trials and tribulations I've gone through…but the problems where always with the engine
.
This car ran fine for years until I removed the old engine/trans, fuel system
*
, and smoothed the engine bay. I trashed the old hood (with the hole cut in it) and replaced it with an red OEM V6 hood.
*
I was planning on installing a fuel cell. I removed the stock fuel tank, and started cutting on the trunk floor. Now, there is a hole in the trunk. I suppose you could put a stock tank back in it, but I would suggest finishing up the fuel cell install.
If you have any questions, PM me for my phone number. I can help with delivery.
I believe that $4,000 is a fair price. If you guys feel I'm off-base, please let me know.
I'll consider a trade for a Ford SUV – Bronco, Exhibition, ect. This SUV must have a good body and interior. Mechanical condition doesn't matter. Can you guess what my new project is
?
Disclaimer: I am writing this from a motel room and am describing the car from memory. I don't believe I've misrepresented any of the brand names on this car, but I encourage you to request verification on anything you find important.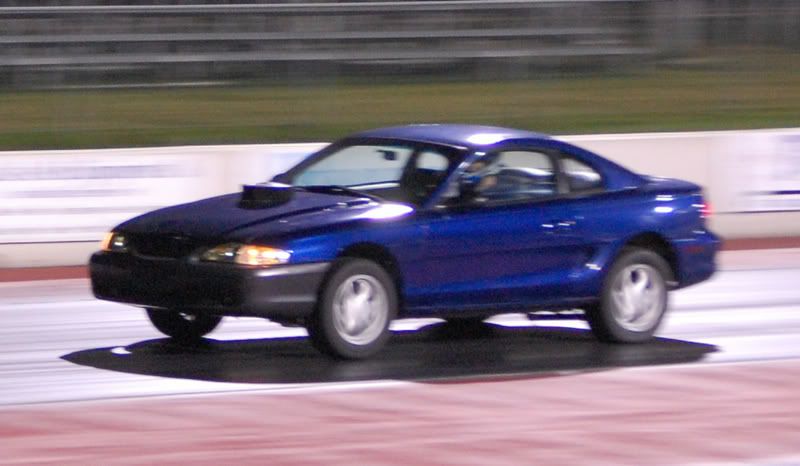 ---
2003 F150 Supercrew
BBF
Turbo

1996 Ford Mustang
2.3t w/ HE351VE turbo
12.10 @ 114 mph
Join Date: Apr 2006
Posts: 294
Mentioned: 0 Post(s)
Tagged: 0 Thread(s)
Quoted: 0 Post(s)
Hey Mike!

Are you going to build a mudder?

Mike
Senior Member
Join Date: Jan 2006
Location: Oklahoma, USA
Posts: 1,170
Mentioned: 0 Post(s)
Tagged: 0 Thread(s)
Quoted: 1 Post(s)
Quote:
Originally Posted by 545 87LX
Hey Mike!

Are you going to build a mudder?

Mike
Hi Mike, how are you doing?
No, I like aggressive, stock appearing street cruisers
.
Imagine a 2006 Expedition sitting at the race trac that looks 100% stock. it looks more like a tow vehicle then race car. Tech inspection doesn't even want to pop the hood. Then, the owner comes out and starts it up....<insert mean exhaust note here> and clicks off a 10 second run
. Now, that's fun!
Truck/SUV = full length frame, plenty of ground clearance, large engine bay, ect.
Have a good day!
Michael
---
2003 F150 Supercrew
BBF
Turbo

1996 Ford Mustang
2.3t w/ HE351VE turbo
12.10 @ 114 mph
Join Date: Apr 2006
Posts: 294
Mentioned: 0 Post(s)
Tagged: 0 Thread(s)
Quoted: 0 Post(s)
Mike,

Still trying to work out the '87 Mustang. Ran the best of 11.001/122mph but the car is not pulling from mid to top end. The BG 850 carb is to small for the 545ci. Installed a 1150cfm Pro Sys carb/Victor intake to see if it will bring the other end up. Also the trans has been slipping, band material and smell, suggested a problem. This has been causing the no second gear manual shifting problem. Valve body had two piston stuck from material and the band was wayyyy loose but no hot spots on the drum. So, if no rain this Fri. and the trans is shifting ok, going out Thur. to check it on the street, I hope to get into the 10's.

How far have you gone on the new engine?

Mike