Member
Join Date: Apr 2007
Posts: 54
Mentioned: 0 Post(s)
Tagged: 0 Thread(s)
Quoted: 0 Post(s)
93 Coupe Blow Thru
---
Hey guy I got a 93 coupe that I am looking at selling.. car has been garage kept and well taken care of.. I am looking to sale this in order to get something different which I have already found but will also entertain offers on other nice rides.. but mostly looking to sale.
$14500
Car:
93 Coupe
Greg Weld Wheels Front and Rear
28x10.5 MT in the Rear D-2's in the front
6in Hardwood Hood
8pt. Cage
All Autometer Guages in the car
Factory Seats
Has Manual Brake Conversion
Engine:
302 crate motor
Alum. GT40 heads
Vic Jr. Intake
MSD Distributor
Quickfuel 750 Blow Thru Carb
Extreme Velocity Blower hat
Vortech S-Trim Blower makin around 15 psi
Electric Water Pump
Tranny:
Basic C-4
Tci converter 5000 stall
B&M Ratchet Shifter
Manual Valve body with Tranbrake
PA Deep Tranny Pan
Suspension:
UPR K Member
Unister Manual Steering Rack
UPR Caster Camber plates
UPR coil overs in the front with Strange Struts
UPR Upper and Lower Control Arms In the Rear
Lakewood Shocks
31 Spline axles with a Auburn and 3:73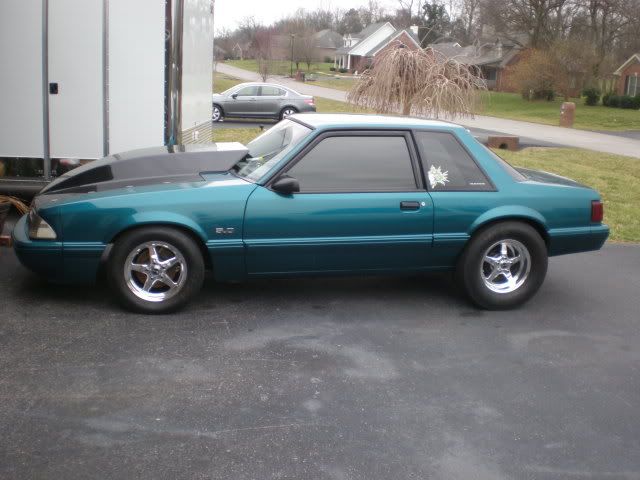 ---
Last edited by mattke; 09-02-2009 at

06:00 PM

.
Senior Member
Join Date: Nov 2008
Location: Virginia
Posts: 989
Mentioned: 0 Post(s)
Tagged: 0 Thread(s)
Quoted: 0 Post(s)
Bump for a nice car and a nice price.
Member
Join Date: Apr 2007
Posts: 54
Mentioned: 0 Post(s)
Tagged: 0 Thread(s)
Quoted: 0 Post(s)
Member
Join Date: Jan 2009
Location: Rhode Island
Posts: 59
Mentioned: 0 Post(s)
Tagged: 0 Thread(s)
Quoted: 0 Post(s)
Member
Join Date: Apr 2007
Posts: 54
Mentioned: 0 Post(s)
Tagged: 0 Thread(s)
Quoted: 0 Post(s)
Has gone a 11.0 on foot brake converter needs to be loosen some and with a better tune car should go mid to high 10's with no problem
Senior Member
Join Date: Jan 2006
Location: merritt Island fl
Posts: 403
Mentioned: 0 Post(s)
Tagged: 0 Thread(s)
Quoted: 0 Post(s)
Member
Join Date: Apr 2007
Posts: 54
Mentioned: 0 Post(s)
Tagged: 0 Thread(s)
Quoted: 0 Post(s)
Needs some street tires and maybe a little bit quieter muffler but other than that yes and would make for a lot of fun on the street
Senior Member
Join Date: Jan 2006
Location: merritt Island fl
Posts: 403
Mentioned: 0 Post(s)
Tagged: 0 Thread(s)
Quoted: 0 Post(s)
Member
Join Date: Apr 2007
Posts: 54
Mentioned: 0 Post(s)
Tagged: 0 Thread(s)
Quoted: 0 Post(s)
Member
Join Date: Apr 2007
Posts: 54
Mentioned: 0 Post(s)
Tagged: 0 Thread(s)
Quoted: 0 Post(s)
Member
Join Date: Apr 2007
Posts: 54
Mentioned: 0 Post(s)
Tagged: 0 Thread(s)
Quoted: 0 Post(s)