Member
Join Date: Jun 2007
Location: Neelyville MO
Posts: 62
Mentioned: 0 Post(s)
Tagged: 0 Thread(s)
Quoted: 0 Post(s)
New Moroso Vaccum Pump
---
Here is a Moroso 3 Vane Vaccum Pump.
Description: Racing Vacuum Pump, 3-Vane, Billet Aluminum,
Black Anodized
Features: Moroso Vacuum Pumps are manufactured from billet aluminum and feature a CNC-precision machined process on all parts to exact tolerances. Special materials are used for the vanes, and rotor work together by producing high crankcase vacuum, that increases engine power, increases ring seal, prevents blow-by, and detonation. Allowing the use of low-tension piston rings for less friction. More efficient than a header exhaust mounted crankcase evacuation systems.
Other: Additional Accessories:
MOR63910 Vacuum Pump Mounting Bracket
MOR63845 SB Chevy Vacuum Pump Drive Kit
MOR63844 BB Chevy Vacuum Pump Drive Kit
MOR22635 -12AN Valve Cover Fitting
Characteristics: Part Type: Racing Vacuum Pumps
Part Number: MOR22640
Vane Amount: 3
Material: Billet Aluminum
Mounting Brackets Required: Yes
Mounting Brackets Included: No
Fitting Size: -12AN
Fittings Included: Yes (2)
Finish: Black Anodized
Quantity: Sold Each
ON SALE OUR PRICE $369.95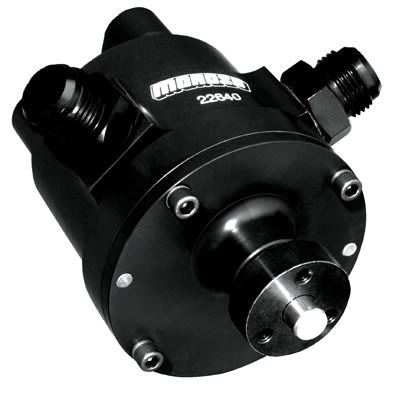 ---
Barker Racing Service
"Your Race Parts Headquarters"
Neelyville Mo
(573) 989-3285
www.barkerracingservice.com
572 BBF Outlaw Pro-Stock Ford Probe
Member
Join Date: Jun 2007
Location: Neelyville MO
Posts: 62
Mentioned: 0 Post(s)
Tagged: 0 Thread(s)
Quoted: 0 Post(s)
Store Hours Mon-Fri 9am-6pm, Sat. 9am-Noon, Closed on Sundays or PM here.
---
Barker Racing Service
"Your Race Parts Headquarters"
Neelyville Mo
(573) 989-3285
www.barkerracingservice.com
572 BBF Outlaw Pro-Stock Ford Probe