looking for 429 power steering bracket
---
looking for a power steering bracket for a 1970-71 torino. 71-73 mustang, i believe even early 70s 429/460 trucks and some lincoln 460s were the same bracket.

let me know what ya got
Senior Member
Join Date: Jan 2008
Location: Fort Mill S.C.
Posts: 285
Mentioned: 0 Post(s)
Tagged: 0 Thread(s)
Quoted: 0 Post(s)
bracket
---
can you describe it .is it a big flat plate or a bracket that goes around the pump? I have a bracket I will try to get a pic of it and you can see if it is what your looking for,thanks Nick
---
We have the 62 FORD Galaxie Drag car back home and getting it cleaned up and tuned up for some goodtimes !! 460 AR Cobra Jet heads Dominator , offy portasonic , 620 Solid cam 60 over , fiberglass fenders and hood , Won several times at Pageland S.C.from Recent owner and won many nostalgia dragraces ,grudge runs at Farmington and Mooresville and Old Shuffletown when My Dad and uncle raced it !!! No Electronics ,footbrake car with C6 , Runs 6:80s 1/8 th mile
both of these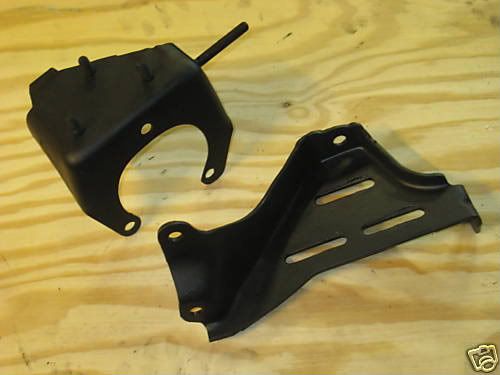 [/quote]
Senior Member
Join Date: Jul 2009
Location: antelope ca
Posts: 724
Mentioned: 0 Post(s)
Tagged: 0 Thread(s)
Quoted: 1 Post(s)
brackets
---
Are you using AC with power steering? Thats what the black brackets in the picture look like. I have a set of non ac brackets, the factory aluminum type you see on most Fords. They have been sanded and polished, if your interested let me know. They are off a early 460 Ford truck, but are same as early Lincoln too.
i wont be using a/c, but i want to keep the original thompson pump.

the 70-71 torinos used this bracket with or without a/c
Senior Member
Brackets!
---
I have what you need! I have them both!

Dan
---
Ideas are just that! Ideas!
Let "NO-ONE" influence your decissions!
Don't try to be someone your not!