2001 Mustang complete rolling chassis
---
For sale: $15k OBO
2001 Ford Mustang GT with clear title
Rear:
Stock style suspension
Fab9 rear housing
Aluminum thru-bolt third member
Billet pinion support
Billet yoke
4:11 gears
31 spline spool/axles
Wilwood race brakes on rear
Racecraft billet forged upper control arms
UPR chromoly lower control arms
UPR anti roll bar
UPR wishbone
Strange double adjustable rear coilovers w/ 110lb springs
Front:
AJE k-member
chromoly a-arms
2" lowering spindles
Aerospace race brakes
Strange single adjustable struts/coilover - 14" 150lb springs
UPR billet caster camber plates
Manual rack
race steering column/shaft with disconnect steering wheel
Manual Brake conversion
Tubular radiator support
Chassis:
Cage done by Little Art October 2010
Through the floor subframe connectors
14 point chromoly cage
Nice aluminum radiator and shroud/fan installed up front
Interior:
Factory dash (gutted behind it)
Factory door panels and working power windows
All factory glass
All factory panels are back in the car
stock carpet is in the car
2 Kirkey racing seats
N20 bottle bracket in passenger seat
Hurst quarter stick for glide (hammer handle)
Electrical:
MSD 7531 igntion box
MSD hvc pro coil
Several guages in dash with dash panel that goes where factory cluster did
Switch panel in dash where factory radio was.
Working headlights/brake light/tail lights/reverse lights/interior lights
Line lock
electric shifter
Battery box in trunk
Saftey kill switch lever out the brake light in rear.
Nitrous:
Edelbrock progressive controller/timer
Speedtech Diffuser plate kit (4500 flange) 100-500hp
Fuel system:
Magnafuel 275 fuel pump for motor
Holley 130gph fuel pump for n20
3 gallon fuel cell in back of car
All braided line and AN fittings from front to rear (6an for n20/8an for motor)
Wheels/tires:
Champion 15x10 beadlock wheels
Mickey Thompson 28x10.5 Stiff sidewall slicks w/ tubes (4 passes)
Weld Alumistar 17x4 front wheels
M&H 26x4.5 drag front runners
Also have Hoosier 275/60/15 drag radials that will come with the car.
Body:
VFN 5" cowl hood
03/04 Cobra front bumper
03/04 Cobra rear bumper (Cobra was fiberglassed over and smoothed)
03/04 Cobra side skirts
03/04 cobra trunk lid and wing
Color is Competition Orange
Additional:
Car weighs 2980lb with a BBF and 220lb driver.. there is still alot of weight that can be taken out also. The car works really well now.. I had some problems getting the geometry correct with the 9" and it having relocated upper mounts.. Made some provisions on the car to be able to move control arm mount up and down for maximum adjustability. Car went 1.23 60' and then 1.26 on the back tires on its last outing. Video of that below.
Here are more pics.. Call or text 334-685-5722 for more info.. Im work offshore and will be gone Aug 31-Sept20.. During that you will have to contact me through email or PM.. My email is
[email protected]
.. I can then call you from my work. My buddy can show the car to anyone that wants to come look at it.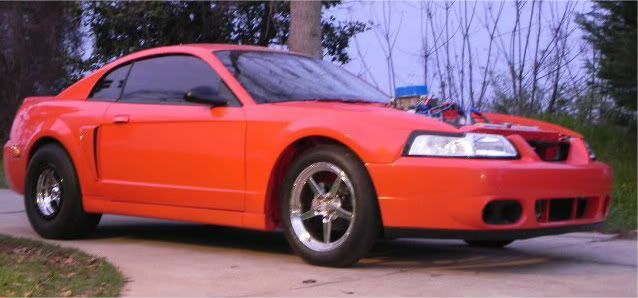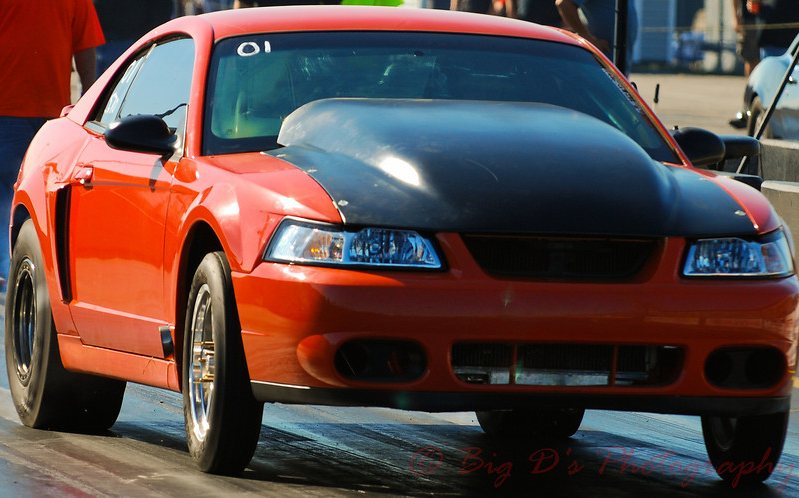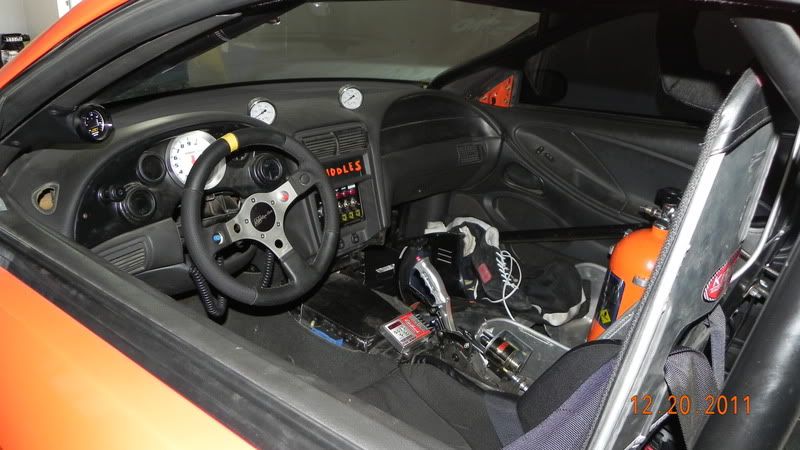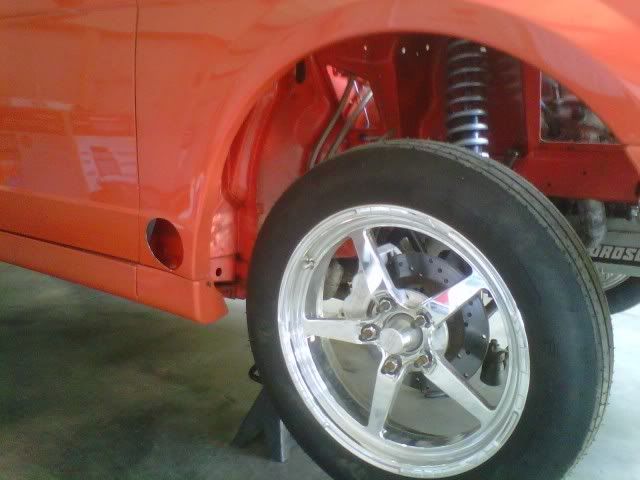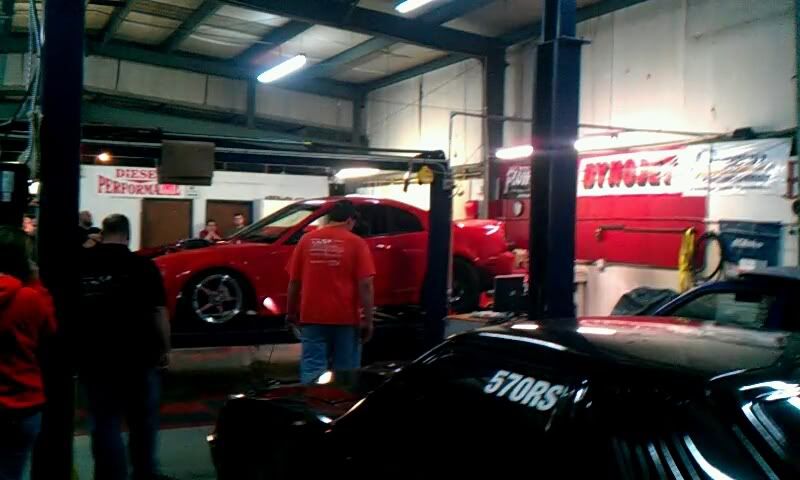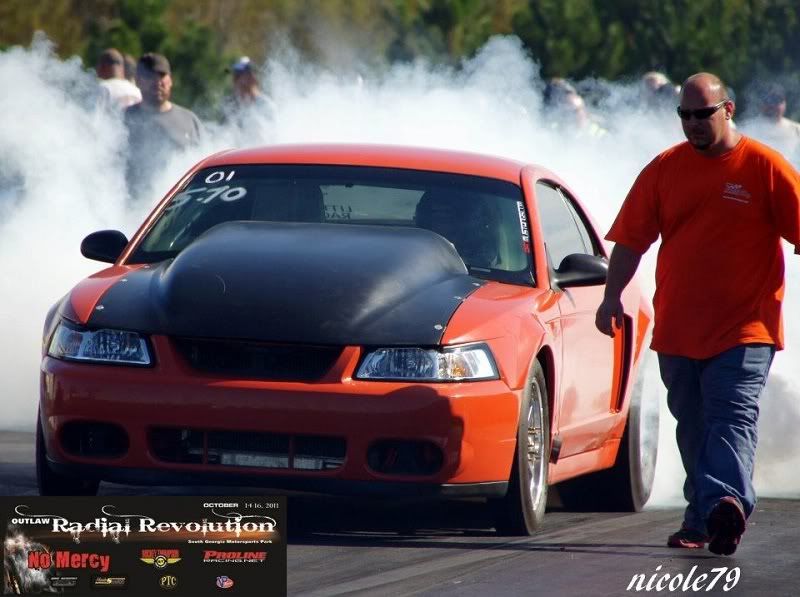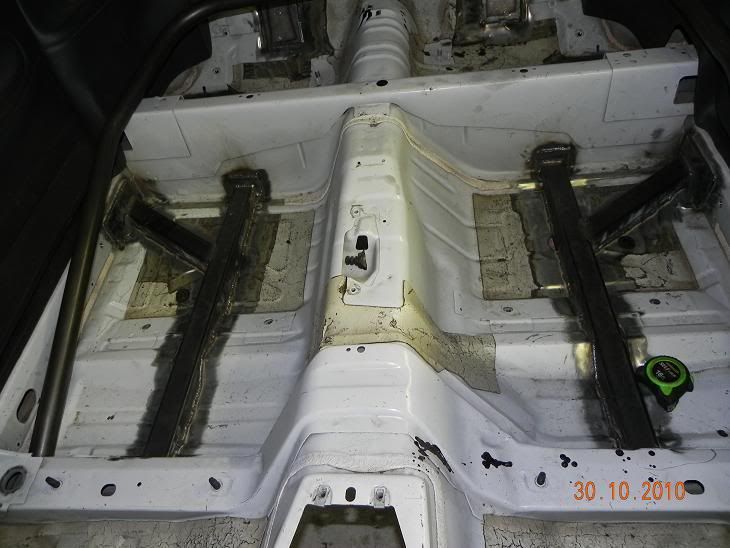 ---
Last edited by HamBone; 08-31-2012 at

05:15 PM

.
Member
Member
Trans can also be included for right price:

Powerglide - JW ultra case, JW ultra bell (BBF), straight cut 1.80, super pump and valve body by Sid Neal, 230psi line pressure, Turbo Spline input, and all that other good stuff.
Member
Join Date: Oct 2011
Location: Delaware, Ohio
Posts: 192
Mentioned: 0 Post(s)
Tagged: 0 Thread(s)
Quoted: 0 Post(s)
Bump for a pretty car, ta be certain
---
1980 Mustang HB
429/C6

1989 Mustang notch
302/C4
Nate
Wide open til ya see God, then BRAKE!!!!
Member
Thanks bud.. I hate to see it go.. Ive had it for 5 years now.. It was a bone stock perfect condition 01 gt with 49,000 miles on it when I got it.. We've spent many many many long nights together.. but its time to let her go as i begin my new build.

I also have a motor that I will throw in with it.. I dont have it listed yet because it isnt fresh yet.. Putting new rods in it and a basic freshen.. Decent little motor.. Its been 5.42 on about 250hp of nitrous. Whole car complete with trans/motor running ready to go $22,500. I will post details on the motor later if someone is interested.
Member
Join Date: Sep 2010
Posts: 65
Mentioned: 0 Post(s)
Tagged: 0 Thread(s)
Quoted: 0 Post(s)
nice!
---
Love this car! Looks just like my cobra. Best color ever!!!!
GLWS
Member
Thanks man.. Well I leave to go back offshore tomorrow so any contact about the car will have to be on here or email.. My phone wont work while im out there. I can call from work phones if need be though. If someone wants to come look at the car, my buddy will be able to show you the car while im gone.
Email is
[email protected]
Member
Bump.. back on land now too