Member
Join Date: Dec 2011
Posts: 52
Mentioned: 0 Post(s)
Tagged: 0 Thread(s)
Quoted: 3 Post(s)
First time at the races!
---
So tomorrow I'm off to a RWYB then its race days on Sunday & Monday (yes two rounds) at a local sportsman track. I'm hoping to enter the 'Super Stock' and 'Sportsman' classes. It's my first time doing this, something I wanted to do 30 years ago but couldn't afford.

Just got car ready today with line lock, safety loop etc. It's not really tuned yet though it runs ok. Should be an entertaining weekend if the weather co-operates.

72 Mach1 has 69 Galaxie XL motor with mild cam (about 220 @ 50 thou & .520" lift) , headers, 750vs on a Torker & a toploader with aluminum flywheel, Hays clutch & Lakewood bell. Feels fast on the road but the timeslips will tell...
Senior Member
Join Date: Oct 2015
Location: Spokane WA
Posts: 280
Mentioned: 0 Post(s)
Tagged: 0 Thread(s)
Quoted: 67 Post(s)
Member
Join Date: Mar 2009
Location: Tylertown, Ms.
Posts: 184
Mentioned: 0 Post(s)
Tagged: 0 Thread(s)
Quoted: 12 Post(s)
Good Luck
---
Four sons & three 1969 mustangs, Life is GOOD !!!
My biggest fear is that when I die, my wife will sell all my cars & race parts for what I told her I paid for them !!!
Member
Join Date: Dec 2011
Posts: 52
Mentioned: 0 Post(s)
Tagged: 0 Thread(s)
Quoted: 3 Post(s)
Results so far...
---
At first event I was traction limited on my 255/55/17 street tyres. Best ET 14.6 with 2.3 sec 60ft times leaving like a granny. Often lost traction in 2nd too & the car moved around a bit. I didn't realise a 14 sec pass could be so interesting. Mph went up from 93 to 97 after I changed primary jets from 70 to to 74.
First round I was up against a 10s Chevy pickup so 4 sec head start! I left ok, they stormed past me before the finish but they had redlit and broken out! Yay my first round win!
At the next event I didn't run as I was busy crewing with an 8 second altered I bought for veteran racer Des Taylor to drive (long story!).
Last week the altered wasn't running well in poor air on the Sunday. On Monday we dropped out of competiton with water in the oil (565ci BBC, leaking head stud issue we think) so I was able to concentrate on the Mach1 in Super Stock. I took first round with least breakout (14.5 on 14.6). I had a bye in the second round but practice launch was rubbish, bad stage, poor RT, wheelspin on Quicktimes! Semi time and I'm really up against it. It's last year's champion and no 2 qualifier Richard in his immaculate big cube Roadrunner. I dialled 14.4, he 11.3. I got a slightly better RT, hooked up well and shifted well, the car was charging hard toward the finish, Richard eventually appeared in my mirror & I had time to get off it & back on to take the win by half a car length, what a great feeling! So into the final for my first time, sadly I lost it on a big loss of traction just off the line, oh well at least the local 'Mopar Mafia' have all taken notice of me now!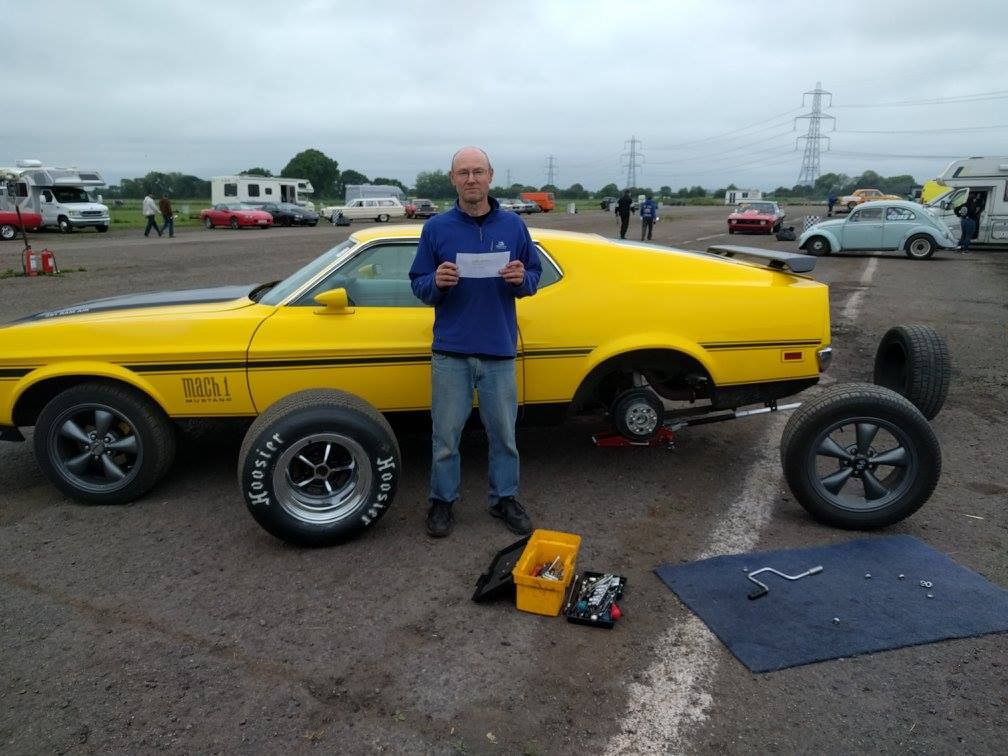 Super Moderator
Join Date: Dec 2009
Location: Georgetown Indiana
Posts: 4,936
Mentioned: 0 Post(s)
Tagged: 0 Thread(s)
Quoted: 175 Post(s)
Nice! But be warned... It's addictive. Next thing you know you will be running 8's and you will have spent your retirement to do it!

And that is a great looking Mach 1 by the way.
Junior Member
Join Date: Jun 2017
Posts: 16
Mentioned: 0 Post(s)
Tagged: 0 Thread(s)
Quoted: 0 Post(s)
Member
Join Date: Dec 2011
Posts: 52
Mentioned: 0 Post(s)
Tagged: 0 Thread(s)
Quoted: 3 Post(s)
Trying to do better...

Been double pumper tuning again today. As the carb is too big (850) its taking fairly extreme measures to get it to run right. I have drilled the primary PVCR to about .079", have 50cc pumps front and rear with 40 squirters and plugged the rear PV as I will never be cruising at 120 mph. 80 jets in front with a 9.5" PV, 88 at the back. Primary is a bit too rich on the main system so trying 79 then 78 tomorrow (77 was lean). Even with the big pump at the back it's still going a bit lean for a second or two when the secondaries open. Already pulls way better than the 3310 did though.

Also re-locating AFR meter & vac gauge into line of sight above dash as accelerating toward 80 or 100 mph while looking at the centre of the dash is not a great idea. It's amazing what you see on the AFR. 60 mph cruise is on the idle system!
Member
Join Date: Dec 2011
Posts: 52
Mentioned: 0 Post(s)
Tagged: 0 Thread(s)
Quoted: 3 Post(s)
I was forced to miss the last meeting of the season due to work which really sucked. So the next weekend I could get away I went to a RWYB hoping for a 13. The good news was I took 0.15 off my previous best time. The bad news was that was still only 14.11 @ 98mph. I thought maybe there was another tenth in there by leaving harder but I ran out of time.

New mech oil pressure gauge confirmed what I had been suspecting - oil pressure was taking a dive at the very end of the pass. It's a stock front sump pan with a short (maybe 2") near horizontal baffle welded across the back. I even put some extra oil in. What happened is pressure dropped from 60 to 20 at the end of 3rd gear then as I shifted some oil obviously got back in the sump & pressure was ok again until about 20 yards from the finish.

Over the winter I will put the car's 351C back in while I get the 429 converted to 460 etc as in my "12s" thread. I will get an aftermarket pan or weld some wings on the one I have. I noticed there is room between the 'flat' part of the pan & the crossmember to maybe make it steeper so oil can drain back easier but if the car is pulling much harder this may not make a lot of difference. Recommendations on front sump pans or drainback mods anyone?