Discussion Starter
·
#1
·
Got it out for the 1st time to run it. It was sounding great on Friday night when we did some short test launches and loaded it up on the trailer for Saturday. We had to laugh a little when I fired it up in the pit area and every person we could see stopped what they were doing and started to walk over to me and see what was up.
I got a ton of compliments on how it sounded. I signed up for 36", 39.5", and 44" tire classes, moved the truck to the shade in the staging area and waited my turn. There is a slight flat spot in the carb where it's transitiong from the idle circuit to the intermediate. It's only noticable when I try to ease on the throttle, if I lay into it, it goes right by it. Anyway, my turn came up to run and I went to stage. Here's the truck on 35's (skinny 10.5" wide on front and 14.5" wide on the rears):
And my run: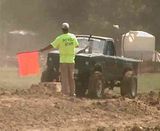 You can see and hear they my tranny started slipping really bad and sent me to the rev limiter. I originally just figured I'd gotten out of the groove and was high centered in the mud. I shifted from 1st to 2nd at about 10', and was in 3rd by 20' seeing the shift light in all 3 gears! Pulled it out, let it cool off, gave it a quick wash down and changed tires to my 38.5x11 boggers then went back to the shade.
Here's my C classs run (39.5" and down tire size):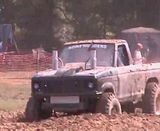 Same again on the shifting, was in 2nd by about 20', in 3rd by about 50'. The tranny was slipping so bad I don't even know if it actually did shift or I was still in 1st or 2nd.
Motor ran super strong, but now I need to drop the tranny pan to see if there's metal in it. I talked with several people that were there and they asked about my converter saying it looked and sounded more like that was the issue with it locking/unlocking causing the fluid to get really hot and overheat the tranny. I've got 2 weeks before the next race, so hopefully i can get it done and ready for there. For now, I'll just be a little sad it's not running.