Discussion Starter
•
#1
•
Hey guys,
Because of all the hard work on the BBF Bash and also for all the FREE knowledge and advice that are provided to us along with the #1 customer service, We presented awards to Lem Evans, Charlie Evans and Phillip Oakley on Friday of the BBF Bash.
Rand Bischel aka Cougar1969 gratiously donated 7 Aluminum rods and I mounted Three of them to plaques that were made by a local trophy shop
http://www.positivelyawarding.com/
Anyway, the awards turned out MUCH better than I expected and I hope that they are now mounted on their office walls :wink:
Lem Evans received the "2007 460ford.com Vendor of the Year" award. I and many others that were involved felt that Lem goes out of his way to help the big guys and the little guys like me.
Charlie Evans received the "2007 460ford.com Engine Builder of the Year" award for all his work on the BBF heads etc.......... Plus for all the help with ALL of us, including the little guys. Charlie brought up a good point, we should have a Head Porter of the year award the next time.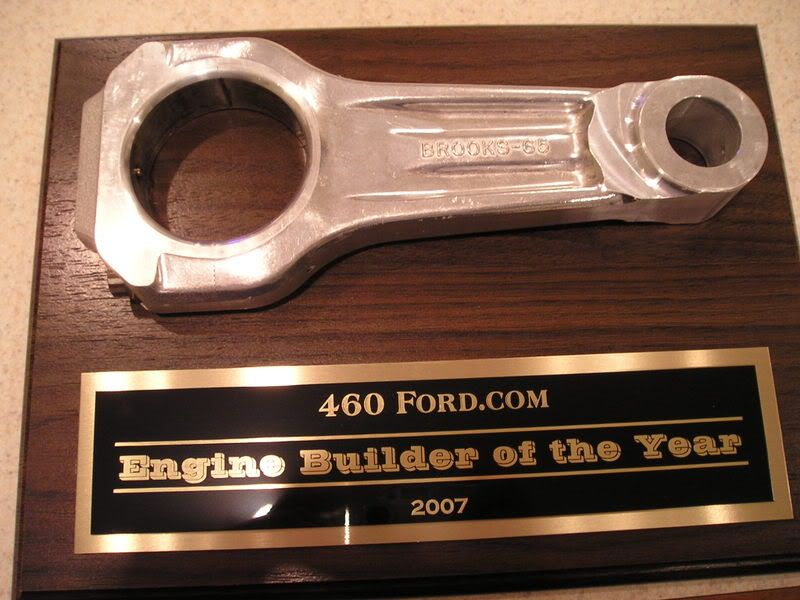 Phillip Oakley received the "2007 Big Block Ford Nationals" award for "Windy Hollow Dragway". At the time that I ordered the plates we didn't know it would be the BBF Bash and at that time BBF Nationals was the name. Anyway, we'll get it right next time :wink:
So All you guys and gals that didn't know, please give these three guys a BIG round of applause for all they do on and off this forum!
Randy, Blake and I have discussed the future of these awards. As long as Chris aka "Chilly" is OK with it, next year we will vote on who should receive these awards and other awards that we can think of :idea:
If you have any other ideas for awards (Not too many, my wallet can't handle a LOT of awards :lol: ) then let me know.
Vendor or supplier of the year
Engine builder of the year
Head porter of the year
?????????????????
Randy, Kim "Maverick" and I are working on another project and as soon as we get it finished then we will surprise you with another award that wasn't given at the BBF bash due to various reasons.
Pictures on Donnie's site
http://www.donniehagan.com/gallery/2778505#148031925-M-LB
http://www.donniehagan.com/gallery/2778505#148032093-M-LB
http://www.donniehagan.com/gallery/2778505#148032417-M-LB
For me personally, Thanks Lem and Charlie for all your help on my engine projects. Lem was ALWAYS available when I had a question about my engine build. THANKS for the parts! Thanks Charlie for the awesome work on my A429 heads and intake!
Never pay again for live sex! | Hot girls doing naughty stuff for free! | Chat for free!