The end is near
.....or so your preper friends say. They've got their bunkers stocked, they'll be hiding from the impending Apocalypse on Friday surrounded by canned goods and firearms, and they're leaving you above ground to fend for yourself.
Well, here at CarsByCarl, we care about our BBF friends, and we think the sun will rise on 12/22/2012. What better way to celebrate the failed predictions of world chaos than showing off the shiny new parts you bought on 12/21/2012 instead of hiding in a bunker.
_______________________________________________________________
572 Cubic Inch Ultimate Fighter Crate Engine
End of the world sale price, $9495.00
700 to 850 HP
(depending on fuel and intended use)
-D9TE block (sonic checked, .100+ minimum non-thrust wall thickness at 4.500 bore)
-Eagle forged 4340 crankshaft, 4.500 stroke
-Eagle 4340 H-beam rods
-Diamond Racing forged pistons, 4.500 bore
-Total Seal plasma moly file fit rings
-Ford Racing roller cam bearings
-SFI certified harmonic dampner
-Rotating assy dynamically balanced
-All critical clearances checked and set per application
-SCJ aluminum heads, ported and prepped in-house
-Victor aluminum intake
-Fabricated valve covers
-Lunati roller rockers
-Lunati solid roller camshaft
-Lunati Solid roller lifters
-Custom length pushrods
-Oil pan not included (will spec per customer requirements)
-Painted to customer preference
_______________________________________________________________
Tall Fabricated Aluminum Valve Cover Big Block Ford
Everyday retail price $159.95.
End of the world sale price, $99.95
-Short bolt design with notched ends to help with accessory clearance.
-Thick gasket mounting rail to maximize sealing.
-Choice of clear anodized or polished finish.
________________________________________________________________
429/460 HEI Distributors
Everyday retail price $99.95.
End of the world sale price $59.95
-Black cap only
-This is the same HEI distributor Summ...other retailers sell for $139.95. Same box, same instruction sheet, same part.
-This is also the same distributor Carl runs in his own car. Field tested by driving 375 miles to a race, running 120mph for extended periods at the race, and driving 375 miles home in 100+ degree temps.
High quality brass terminals and a protective plastic dust cover that encapsulates the 65,000-volt coil. A new cast-aluminum housing featuring a machine polished finish contains new bushings, mainshaft assembly, and a hardened steel gear. Our HEI includes high-output module, centrifugal advance components, and adjustable vacuum advance canister.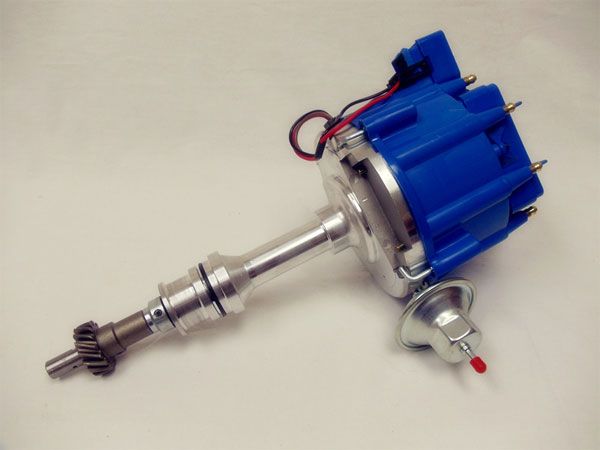 ________________________________________________________________
Heartthrob mufflers
Everyday retail $189.95/pr.
End of the world sale price $99.95/pr
-Made in the USA!
Heartthrob Velocity series mufflers:
5" x 11" x 14" case
3" center in - center out (for maximum flow)
More flow and less back pressure than most other chambered designs, including flowmaster.
Heartthrob Velocity Series Mufflers (HVS) are a great choice for your vehicle. Heart throb exhaust has spent years developing and fine tuning the Velocity Series muffler. This Hearthrob velocity muffler flows amongst the best of welded performance mufflers on the market, is normally quieter inside the vehicle, and is still aggressive at the tail pipe. Call it having your cake and eating it too. Our unique center wing baffle isolates sound in the HVS muffler, and combined with our welded double-wrapped shell, sends the sounds to the tail pipe. You get excellent exhaust flow, a durable welded double-wrapped shell, lower interior sounds, and a powerful sound at the tail pipes. The 5-1/2" x 11" bodies flow better than the 4" x 9", and the 5-1/2" x 11" bodies are quieter. These velocity mufflers are directional mufflers which are not reversible.
________________________________________________________________
Heartthrob mufflers
Build your own shortie header kit
Everyday retail $189.95/ea.
End of the World sale price $129.95/ea
-Made in the USA!
Shortie kit
:
-header flanges included
-1-3/4" primary tubes
-3" collectors