As most of you know, I recently converted to multi-port fuel injection, then to a custom 60-2 crank trigger kit. You can read about that in this
Link
. I liked the idea of getting rid of my CD ignition box, coil and distributor, so I upgraded to DIS (Distributorless Ignition System).
Holley's DIS kit
outputs more spark energy than high-power single racing coils (for forced-induction, nitrous oxide or high compression engines). I fabricated a custom stainless steel plate to mount the DIS coil pack but it's hardly noticeable in the picture.
After a successful test run with DIS, I decided, what remained of my Mallory Hall-Effect billet EFI distributor, needed to serve more purpose than just an oil pump drive. So I converted the Hall-Effect sensor to a "cam sync" sensor (for sequential EFI operation), by removing seven of the shutter blades and fabricated a stainless steel plate to cap-off what was left of my distributor. While I was at it, I made a nice adjustable spark plug wire hold-down to support the center span of wires (due to the missing distributor cap, rotor & adapter).
My engine definitely seems to run a little smoother under sequential EFI control BUT nothing very significant. Believe or not, the most significant engine improvement I've ever made
since carburetion
, was Holley's TBI system. It just flat out works well. All my following upgrades (MPFI, crank trigger, DIS, sequential EFI, etc.), were minor improvements. Anyway, today I drove my Bronco on a nice long joy ride and it runs awesome! The power and driveability of my 508 BBF is just incredible. EFI simply makes this truck a pleasure to drive.
Here are two pictures of the DIS coil pack and my cam sync/oil pump drive: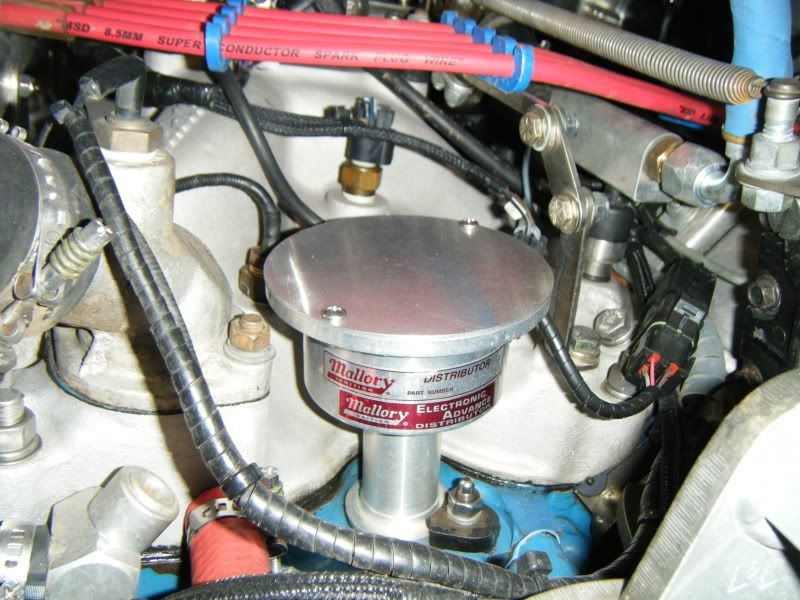 UPDATE:
Danny Cabral said:

I also spent some time tuning the

injector end angle

timing. Long story short, I settled on -45° end angle because it used slightly less fuel at idle. I like the idea of injecting fuel a little earlier during the intake stroke. ECUs have different end angle software parameters, so here's an excerpt of how Holley does it:

Holley EFI manual said:

Fuel Injector Information - Injector End Angle
Description: This is the crankshaft angle in degrees when the injectors will finish their injection event. A value of 0° will end the injection event at BDC (Bottom Dead Center) before the compression stroke. A negative value moves the event before BDC and a positive value moves the event after BDC. There could be some improvements in cylinder to cylinder fuel distribution by tuning this parameter. If modifying, it is best to move this value in a negative direction to start.
I'm no longer using a -45° injector end angle value. The end angle has a diminishing effect as the injector duty cycle reaches 90%, however, it's nice to tune this for best idle and lower RPM ranges. I spent the last week trying to determining why the right bank of my engine, always ran about half a point leaner AFR (air/fuel ratio) than the left bank, at idle and low RPMs. I needed to determine if this was an inherent characteristic of most engines or if it was EFI tuning related (meaning it's my fault).
I tried swapping the two WBO2 sensors but the AFR read the same. I confirmed there weren't any exhaust leaks. I tried swapping the spark plugs from bank-to-bank (that's when I discovered the uniform looking spark plugs) but the AFR still read the same. All the injectors are new and the fuel pressure is rock steady. The entire ignition system (DIS) is new and my timing light doesn't indicate any misfires. Even my infrared temp gun indicated all cylinders were within 10% of each other. The BBF cylinder head architecture has identical intake & exhaust ports (on all cylinders) and all my dual-plane intake runners are relatively long, so I knew there wasn't any significant air mass differences.
After exhausting all engine related aspects, I focused my attention on the Dominator EFI tuning parameters. I verified all the Individual Cylinder fuel & timing factors were zero and that my cam sync was set correctly on #1 cylinder. I then realized the only other possibility was the injector end angle. So I first tried changing it back to 0° and to my surprise,
for the first time ever
, the left bank AFR was leaner than the right; completely reversed! I finally found the culprit! After experimenting with many different values, I finally nailed it down to -10° injector end angle. This equalized the left & right bank AFR.
TIP: I found that watching the left & right AFR, by staring at the data monitor was difficult to track (once I got close to the optimum value). Instead, I narrowed it down to three possibilities, then datalogged each change (named each datalog "AFR Test -xx°"), so I could "see" the definitive AFR variance. I hope this provides an unambiguous method to help someone tune their injector end angle. Unfortunately, this requires dual wideband O2 sensors
or
alternating one wideband O2 sensor in each exhaust bank for each software change and overlay the datalogs (labor intensive but would work).