·
Community Manager/Admin
Discussion Starter
•
#1
•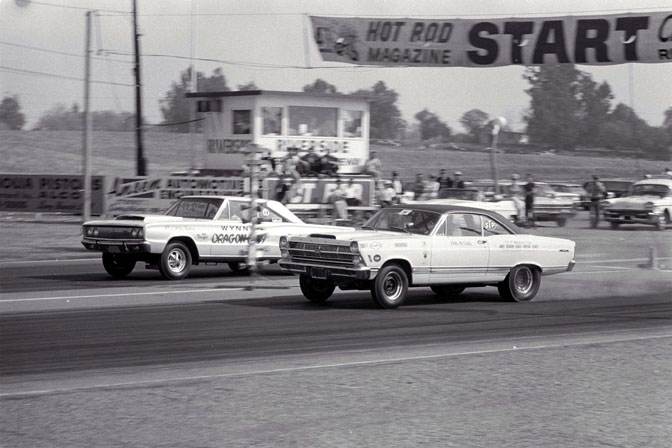 For racers and enthusiasts not inside the General Motors bubble, life can be pretty frustrating. It seems like every race or car show you go to is packed to the rafters with Camaros and Chevelles. In fact, imagine for a moment that you own a racetrack and host a Super Chevy Show every year. You might as well open up an ice cream parlor and serve 31 flavors of vanilla. If I'm the guy at the gate selling tickets, I don't want to see another '69 Camaro all year long.
We don't think it comes as any surprise then that a rogue group of racetracks has broken from the pack of Super Chevy Show venues to stop the madness and right this outrageous wrong. After all, track promoters are muscle car lovers too—and what better personifies the term "muscle car" than a Mopar? Think about it: You don't get into the racetrack business as an easy way to make money, you start as a car-lover and figure out a business case for paying the bills on your awesome racetrack—which as we all know is the ultimate muscle car accessory.
Four IHRA member tracks owned by IRG (Cordova International Raceway in Cordova, Illinois; Memphis International Raceway in Memphis, Tennessee; Palm Beach International Raceway in West Palm Beach, Florida; and Maryland International Raceway in Mechanicsville, Maryland), have banded together to answer the question: What would a muscle car universe look like without General Motors? We all know the answer to that one: Mopars on Fords, baby!
It just makes sense. Putting on a single-make show is hard to justify on the basis of the low car count (unless you follow the herd with a Chevy …), so by casting the die in the form of Mopars vs. Fords, the big rivalries of the 1960s can be revisited. It certainly has precedence in history. You'll remember back in '60s GM had a formal corporate ban on all competition, meaning the only real corporate rivalry in stock car racing and drag racing was Auburn Hills against Dearborn. In NASCAR, it was FE against Max Wedge, on the dragstrip it was Hemi versus Hemi. Then as now, big-block Chevys were for cruising the burger joint.
The stage is set for the show, so all you gotta do is be there with us. Mopar Muscle magazine and Muscle Mustangs & Fast Fords magazine are teaming up to cover these exciting match-ups, and we'll be looking for your car! While there are slight differences in the race and car show programs at each track (you'll want to click on the track links below to get the details), you'll find something for your classic Mopar or Ford. On the dragstrip, there will be footbrake face-offs between DOT-legal street cars, brackets for faster street cars, and dedicated Sportsman race cars with delay boxes, air shifters, and transbrakes. Bracket racing is fun, fair, and easy, so no matter what kind of car you've got (as long as it's a Ford or a Mopar) you can participate. In each class, the brands remain separate through eliminations until the final four each of Mopars and Fords. The match-ups take place starting with the quarterfinals. In the car show area, you'll find a large number of classes for Fords and Mopars, with specific divisions for each make, model, and year range. Moreover, these tracks have taken the time to create classes that take into account the chassis types and year breaks unique to Mopars and Fords—just like they do at a Super Chevy Show for the Bow Tie boys.
In the swap meet and car corral areas, once again—nothing but Mopar and Ford. If you are putting together a classic and you need restoration parts, speed parts, a starter project, or a finished restoration, this is your ticket. No acres of Chevy parts to wade through to find the gem you're looking for. (And in a happy accident, every wheel fits every car!) Vendors too will find the right kind of customer for their Ford or Mopar parts, and spaces are still available for all event venues.
Maryland International Raceway has even taken the concept a step further by creating individual events for Fords and Mopars with the Ford Fever Classic and the Mopar Eastern Classic (the last two weekends of October, respectively). Those guys know how to party, with Wheelstand Contests, heads-up Factory Appearing Stock Tire (FAST) classes, and a Top Sportsman Quick 8 Shootout with Pro Mod style cars. You will not be disappointed!
Naturally, we will be there to capture all the action and find cars for possible features on the pages of Mopar Muscle and Muscle Mustangs & Fast Fords, so mark one of the dates below on your calendar and plan to take the whole family. For more information and to register, click here [fordvsmopar.raceit.com/] See you there!
EVENT SCHEDULE
August 20
Cordova International Raceway
Cordova, IL
309-654-2110
Cordova International Raceway | An IRG Company
October 7-8
Memphis International Raceway
Millington, Tennessee
901-969-7223
Memphis International Raceway - Memphis International Raceway
October 15
Palm Beach International Raceway
Jupiter, FL
561-622-1400
Palm Beach International Raceway - Palm Beach International Raceway (PBIR)
October 21 – 23
Ford Fever Classic
Maryland International Raceway
Mechanicsville, MD
301-884-9833
..:: Maryland Int'l Raceway* -* Budds Creek, MD* ::..
October 29
Mopar Eastern Classic
Maryland International Raceway
Mechanicsville, MD
301-884-9833
..:: Maryland Int'l Raceway* -* Budds Creek, MD* ::..
Read more here:
Mopar vs Ford: The New Event Series You?ve Been Waiting For! - Hot Rod Network