Discussion Starter
•
#1
•
Evidently we have some bold neighborhood kids around here. The house backs up to a lake with a 4' or 12' right of way around the lake for community access. I will also note that the neighborhood association hasn't been active for over 2 years now.
Well anyway...
I had built a lean to off the shed at the end of our driveway. Under the overhang I keep all my steel stock, and drain pans etc for oil changes and the like.
Well some kinds keep coming by fishing and helping their self to my drain pans. Just one in particular, which happens to be the one that I used to drain the transmission fluid from my Ranger into 2 weeks ago.
I found it down by the lake, close to being blown in by the wind. I took the pan and put it under a large plastic drain pan I use for oil changes.
2 Days later I come home and the stinkin pan is...you guessed it...back down by the lake.
We also have a pick nick table in our back yard, the one bench always ends up by the lake, and they just leave it. I moved the table and benches closer to the house, and they still came and got the bench. If they would ask...it would be cool, but since they don't, they have no right to move or use my stuff.
Also they like leaving trash behind them. This last time...1/4 loaf of bread, empty pringles can, a few paper drink cups.
Im afraid of my parts for my F100 to start walking off, some wont fit in the shed or garage, so they are stored under the lean to.
Im thinking about putting up no trespassing signs, but I don't know if this will be enough. I cant talk to them, cause they never seem to be fishing when I am home. I don't see my dad confronting them also.
Im just tired of this crap and picking up after them.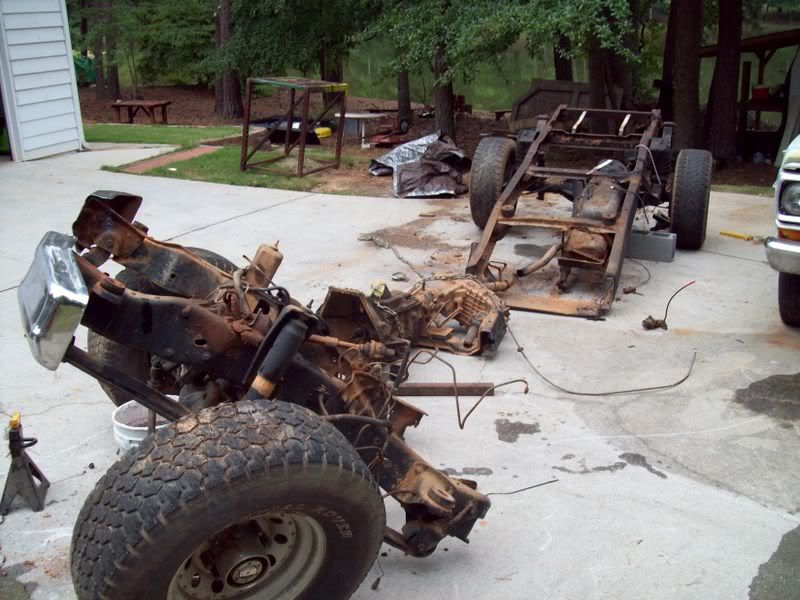 You can kinda see the lean to in the upper right corner. Straight out from the tarp is our fire pit, that's were the benches have been for a few years without issue.