First I would like to thank waycool jr for posting this thread..
http://460ford.com/forum/showthread.php?t=135753&referrerid=25042
I recently built a 514 stroker and have a little less than 200 miles on her and I started to develop a rear main leak..I found this thread and decided to pulled my motor since things like this would drive me crazy plus I have WAY to much money in this motor for it to leak any kind of fluid.. I pulled the main caps and slightly pryed the end of the crank up slightly so it would be easier to install and remove the seal..I first inspected the rear main cap bearing..Here is a photo..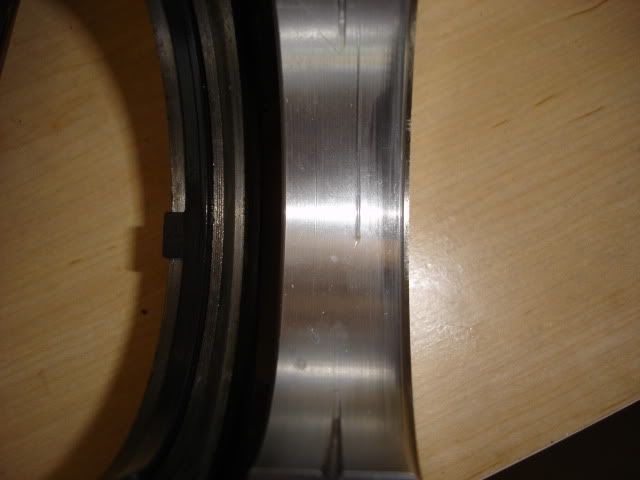 As you can see the rear main seal was not letting the bearing seat all the way down on the crank..Next I inspected the old seal which I removed from the block and cap..I noticed that the back half of the seal was starting to separate right down the middle..The rubber was cracked right down the middle..Here is a photo..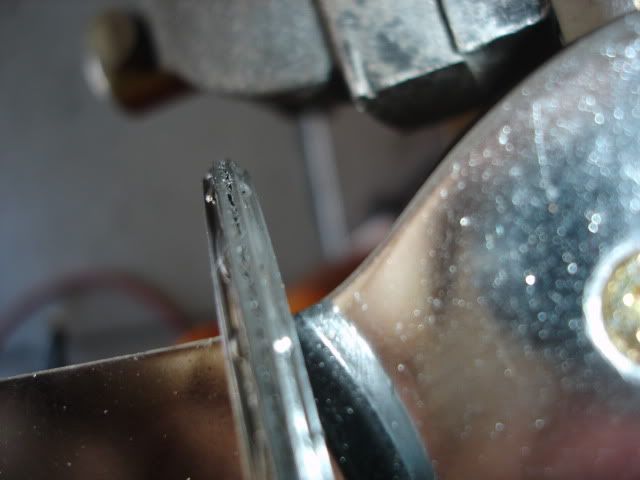 I first measured the stick out of the seal with the other end flush in the main cap..The old seal in the cap measured .060 thousand with my digital micrometer..Yup differently a problem..
Next I did the same with the seal the was in the block..it measured .080 thousands with the micrometer..A total of .140 thousands..Way Cool Jr stated in his thread that a TOTAL of .020 to.030 was acceptable..I was .110 thousands to MUCH!!!!
I purchased a new FORD Motorsports rear main seal from my for deal for $17.00 bucks including shipping..The old seal was the Felpro $40.00 dollar seal that I purchased through Summit Racing..There was a small part number on both seals..Do you want to guess that it was the same number..Yup it sure was..Save my self $22.00 bucks plus..
Well I go and measure the NEW seal in the cap first..It measured .074 thousands!!! WOW.. If I just slapped that new seal in, I be back to square one...I then measured the New Block seal..It measured .105 thousands!!! A total of .179 thousands..The new seal is .149 thousands to much..I used a piston ring filer to get the the desired .020 thousands total..
I have not installed the engine yet but I am hoping that this will cure the dreaded DRIP, DRIP and DRIP leak I had..Once again thanks Wacooljr for posting the the thread on his problem or I might have been pulling my engine a total of six times to finally cure the problem..Here is a picture of my beast..