Discussion Starter
•
#1
•
For the great Trans Brake. I cannot thank him enough for building us such a fine part.
I had a long time friend/customer call Frank and buy his last one a few weeks ago after the C6 in his mud truck destroyed itself. Franks Trans Brake came in the mail Friday afternoon and we spent all Friday night putting his C6 back together with the new Trans Brake Valve Body.
I think he is going to have to screw his tires to the rims as it spun the rear tires inside the rims about 4" on this first pass. First pass Saturday was a solid 2 tenths faster than foot braking. Here is the first pass leaving at 3900RPM. 4.52sec in the 200ft.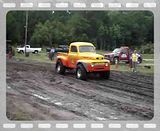 Since everybody likes to know the details.
Truck Specs:
48 Ford Body
86 Bronco Frame (stock wheel base)
Ladder Bar w/Leaf Spring Floater rear/ Stock Radius Arm w/Coil over front
4800LBS
39.5X18 TSL Boggers and 38.5X12 TSL Boggers (D.O.T. UNCUT)
512" BBF
Blue Thunder CJ Heads
Reed Roller
C&S 4500 Aresol Billet
C6 w/Merkl Trans Brake
ATI 9" 4000rpm stall
NP203 Transfer
35 Spline 9" Rear Dana 44 Front (5.13 gear)
Will