Discussion Starter
•
#1
•
how low is this,IMPORTANT NOTICE: RACE CAR AND TRAILER THEFT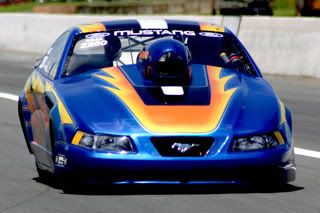 632ci brodex motor
Drag Racing competitor Todd Jones' F250 ute (Registration: PEDRO), 'Guthrie Racing' 40ft white trailer and Mustang Race Car (Number 2260) as well as tools and spares have been stolen early this morning from his Slacks Creek workshop in Queensland.
The distinctive trailer is emblazoned with 'Guthrie Racing' along the sides and back, and the set-up is believed to have been stolen from the 57 Rowland Street, Slacks Creek, premises at approximately 11.30pm last night with a number of persons involved.
.
Jones was due to compete in the Supergas category at the Willowbank Raceway Night Fire Top Fuel Spectacular event to be held today and tomorrow, however upon arrival at his workshop early this morning Jones found the gates to have been cut open and his valuable equipment missing from the workshop compound.
Jones and local police are currently appealing for anyone who may have seen or heard anything in regards to this matter to come forward, as any information may be helpful in recovering the stolen goods. If you can help, please call Willowbank Raceway on 07 5461 5461, Steve Bettes on 0409 489 294 or their local police station immediately.