NEW!! IMPROVED AND TOTALLY REDESIGNED!!
All of our Strong Box kits use stout planetary gears with 2.4:1 - 2.7:1 low range gearing. We can even use your planetary gears from electric shift transfer cases that you otherwise may be throwing in the junk pile.
At this time, we have kits for full size Ford transmissions, full size Chevy transmissions, and Ranger/Explorer transmissions.
We also have kits using NP208 planetary gears, as well as 231/241.
Jeep kits are also available using the 231 planetary gears
Upcoming kits for other gears include BW1345, BW440* series, and NV271.
Our ultimate goal is to offer kits that will work with the planetary gears that are readily available to you; saving you time and money otherwise spent looking for that one manual shift case that might work with other kits.
WWW.BEHEMOTHDRIVETRAIN.COM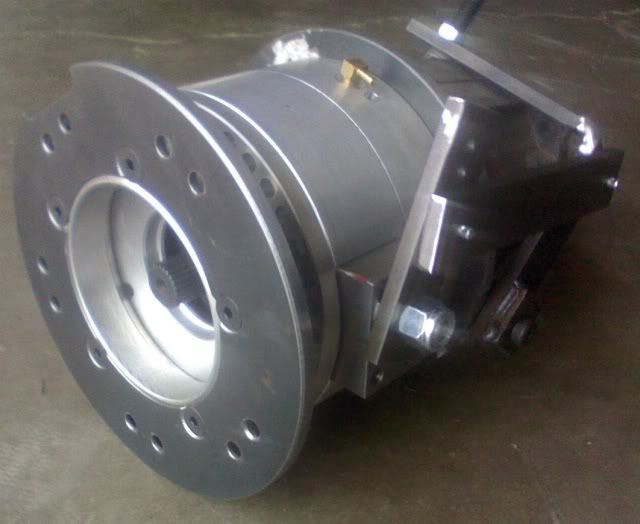 NEW!
YES, WE ALSO HAVE A KIT THAT PUTS A NP205F BEHIND STOCK RANGER/EXPLORER TRANSMISSIONS!!!
Standard Ranger/Explorer kits have a steel plate integrated into the clocking adapter that can be upgraded along with the output shaft to accomodate a Ford NP205
STRONG BOX FEATURES:
•~2.4:1 - ~2.7:1 Low range multiplier
•Low profile design minimizes / eliminates fitment issues with floorboards, exhaust, front driveshaft, shifters, etc...
•72 position, 360º clockability in 5º increments
•New 4340 chromo output shaft
•6061 billet aluminum housings precision machined
•Fill plug, drain plug, and particle magnet
•Bolt-on shifter included
•Easy installation: No machining, or welding required
These kits are designed to be compatable with many different transfer cases, including the NP 205 transfer case, and allow use of the original NP 205 shift rails with little to no modification, even with most "twin stick" conversions.
The Strong Box is 7.9" diameter, and will range from 6.5" long to 8" long, depending on the choice of planetary gears used, and options.
Our Strong Box kit is ready to bolt on when it is delivered to your door. Just don't forget to pour in the gear oil. If you ever need to clock the trasfer case in a different position, you remove 6 bolts, rotate the transfer case to the desired alignment, replace 6 bolts. No need to drain, or scrape RTV, due to it's completely sealed design.
Introductory Price: $899.00 before $200.00 core discount - GET ONE BEFORE THE PRICE GOES UP!!
Strong Box + NP 205F = 19" - 21" long to center of rear yoke
1:1 Hi / Hi
~2:1 Hi / Low
2.7:1 Low / Hi
5.4:1 Low / Low
2.7:1 2wd Low without modifications to NP205
(figures are for the 2.7:1 low range)
We make kits for nearly every application, contact us to order the Strong Box that will make your rig the Torque Monster you need to dominate the trail and the competition.
CORE DISCOUNT
•Introductory price of $699.00
Until further notice, if a customer provides a good, used planetary gear set from a transfer case of any version (manual shift, electric shift, etc...), they will get a $200.00 discount off of the original $899.00 price. Discount will be applied only after core parts have been inspected and approved.
NOTE: The gear set you are providing for a core discount does not nececarily have to match the Strong Box you are purchasing; it just has to be a gear set that we can use (example: You have a 23 spline Jeep 231 and you want to purchase a 32 spline Chevy 241 Strong Box). Please contact us to see if we currently need the planetary gear set that you may have to offer.