Discussion Starter
•
#1
•
First I want to say I have a great time and it was fun meeting old friends and making new ones. If I didn't get to meet and greet with you this time, I'll catch you at the next one. Sorry I missed the cylinder head seminar and had to leave so abruptly, but Saturday night at the track I started feeling bad and felt worse Sunday morning, so I felt the best thing to do was head home. I went to the Doctor this morning and my blood pressure was pretty high, but he said I was okay and to get some rest. I guess to much sun and and 14 hours of standing at the track.
If I didn't get your car on video I apologize, but I didn't want to spend the whole deal standing at the fence taping. I think I have enough for one more, Part 3 I'll work on it later.
This second one has Damon's wheelies in it.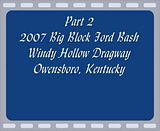 This clip has what I think is a few runs during the Quick 16. I wish I had taken more, but you know how it is, could of, would of, should of!