WHEELIE BARS - SOLD!!
USED COMPETITION ENGINEERING SPRING LOADED WHEELIE BARS FOR SALE - MORE PARTS THAT DIDN'T MAKE IT INTO THE CAR!!!
$80.00 INCLUDING SHIPPING
GOOD CONDITION (not show condition!) Decided to go with longer bars from Jerry Bickel Race Cars.
sold without axle brackets (bolt-on or weld-on available from Comp Engineering)
[email protected]
248-322-3080
HERE'S A PICTURE FROM COMP ENGINEERING WEB SITE SHOWING THE AXLE BRACKETS.....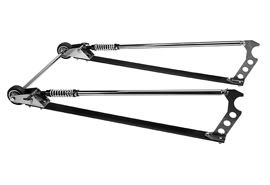 HERE'S THE REAL THING.......
Each bar features upper spring adjusters made from 7075-T6 aluminum to allow for ease in preload adjustment. The lower struts are made from high strength 6061-T6 aluminum, enabling them to handle the forces applied to them without fatiguing. Includes quick release pins to allow access to the rear end housing for jacking - NOTE - NO AXLE BRACKETS INCLUDED!!!